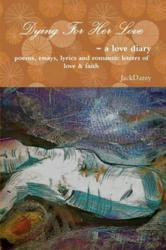 This is practically a diary of my love for her..
New York, NY (PRWEB) February 03, 2010
The new collection of works, 'Dying for her Love,' will be of interest for those who have a hard time finding the ability to love again or to be inspired with that warm feeling of having someone special in their life especially men who may not be connected with their emotional side. This collection of romantic love letters will be an aid for those to be inflamed with having their own unfound expression. The author JackDazey believes the key to life and the key to having a healthy love starts with a love inside.
The book of romantic love letters and inspirations developed when JackDazey started keeping in touch with his soul mate through extensive text messaging over a distance of 3,000 miles. Upon deciding to keep account of his feelings and emotions on his private blog to the love of his life, 150 romantic love letters later he realized what he had done. The book is a daily blog in which he writes to his Angel of love in hopes of joining her soon. "This is practically a diary of my love for her..", he states "..I hope it could help others to learn about their own feelings, emotions and expressions of love!"
After a failed joint venture partnership and investment JackDazey was literally dying inside. "..When all money is gone, when all material things are removed from this world our only necessity is the need to be loved. Before finding my soul mate, I projected a negative image of the world created from my own pain and life only became more painful. I fought with myself to set my mind free. I traced my steps to where everything in my life began to go wrong. I started to suffer from problems with my weight, problems with my character and problems with the ability to trust people, I was truly dying for her love, needing the love of my soul mate to put me at peace and furthering my daily positive hope..What I felt inside became a projection of the world around me."
JackDazey is a songwriter, producer and visionary. He attributes his life change in seeking ways to relax his stress and correct his poor breathing habits that was brought upon him from a hectic life crisis he faced. He now counsels others in changing life patterns by listening to the music of their own breath! By taking a deep look inside himself, he started to love himself again for who he has always been, recalling that childlike happy kid full of love for all people in life. JackDazey strongly feels through the law of attraction and a strong positive faith and outlook on life, the universe delivered his soul mate unto him in every sense of the word!
Dying For Her Love
Romantic Love Letters
Contact: Rubin Einstein
Phone: 347-495-7790
Website: http://www.jackdazey.com
# # #