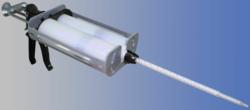 (PRWEB) February 24, 2010
Norwich, CT Plas-Pak Industries announces the availability of a newly designed line of plural component, manual, air and high solids spray dispensing guns for its patented Ratio-Pak® two part cartridges and HSS spray systems and technologies.
 
According to Jack Hunter, Marketing and Development Manager, the new guns have several innovative features, which improve ratio performance, long-term durability, end-user safety and convenience, at very attractive costs. Key improvements include:
-Easier pop-socket ejector plate ratio conversion from 1:1 to 10:1
-Better cartridge retention with reduced tilt, torque and blow by
-Improved patented spray guards –reduced worker exposure to toxics
-Stronger more durable cartridge cradles
-Superior air regulator control of dispensing speed and air assist spray
-High 26:1 mechanical advantage manual guns
 
Plas-Pak's Ratio Pak® cartridges, application engineered static mixers, HSS spray nozzles, and dispensing guns are popular world wide for packaging, meter mix dispensing, and spraying of two part formulations, including adhesives, sealants, coatings, liners and foams. Typical formulations include epoxy, polyurethane, polyurea, acrylic, silicone and hybrid compounds.
 
For more information, and comparative test date, contact: Plas-Pak Industries, Sales and Customer Service at (860) 889-3383 or visit our website at http://www.plaspakinc.com/
Plas-Pak Industries, located in Norwich, CT, is a manufacturer of high quality industrial packaging, including injection molded cartridges, static mixers, and dispensing equipment. Our products are made in the U.S.A., and serve applications in the industrial adhesive, construction, coatings, and many other markets, in over 30 countries around the world.
Plas-Pak Industries, Inc.
Ten Connecticut Avenue, Norwich, CT 06360
Tel: (860) 889-3383
http://www.plaspakinc.com
Note to Editors: For an original copy of this release and product photography, please visit our resource page at http://plaspakinc.com/press
###