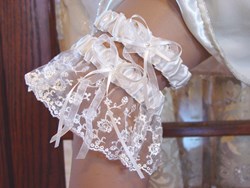 (PRWEB) March 23, 2010
Minneapolis, MN Vintage jewelry site owner Michelle Webb announces the launch of her new Web site, http://www.MichellesWeddingGarter.com . The new Web site features a variety of wedding garters, bridal garter sets and other bridal accessories, perfect for any bride-to-be. Brides can also find a selection of vintage jewelry and hair jewelry at Webb's other site, http://www.MichellesVintageJewelry.com .
In addition to the newly launched wedding garter site, Webb has been selected to appear as a wedding hair accessory expert in author Sharon Naylor's upcoming book, "Wedding Hair and Beauty" in the KNACK Make It Easy series from Globe Pequot Press. The book, available in December 2010, will include photographs of pieces available from Webb's stores.
"I am so thrilled that I found Michelle Webb's amazing Web site! Her hair accents are so lovely, and her photos so perfect, that I immediately contacted her to ask if she would do me the honor of letting me feature her gorgeous pieces in my book. These lovely clips, combs, and twist-ins are a must for brides' hair styles and can even take the place of a pricy tiara or headpiece in this recession-era that challenges so many brides' budgets...it's simply the best collection of beautiful, bridal hair accents that I've seen!" -- Sharon Naylor, author of over 35 wedding planning books.
Webb launched Michelle's Wedding Garter to offer more wedding accessories for her bridal customers. In addition to featuring a history of the wedding garter tradition, the site features a wide selection of wedding garters and bridal garter sets for any bride to be. Available garters come in a variety of materials and designs, include crystal-beaded organza garters, beaded garters, lace and pearl garters, satin garters and more. The site even offers a garter featuring real seashells, perfect for a beach-themed of tropical destination wedding.
A selection of bridal garter sets is also available. Each garter set features two garters, one for tossing and one to save as a keepsake. Featured sets include garters with rhinestones, ornate lace garters and blue satin garters.
In addition to garters and garter sets, MichellesWeddingGarter.com features an assortment of other wedding accessories, including face veils, hair accessories and bridal veils.
Those looking for hair jewelry or vintage jewelry can also visit MichellesVintageJewelry.com to browse a selection of bracelets, earrings, necklaces, brooches and more. More than 100 years of collectible vintage pieces are featured, including glitzy costume jewelry, estate jewelry and antique jewelry from the 1940s and the Victorian and art deco periods.
MichellesVintageJewelry.com also features a section specifically for brides and bridal parties, perfect for those looking for "something old" or "something blue." Included in this section is antique jewelry with clear crystal and rhinestone pieces, dating from the late 1800s through the 1960s. These pieces can be the ideal complement for any vintage bride or ceremony.
MichellesWeddingGarter.com and MichellesVintageJewelry.com both ship worldwide. For more information about either site, contact Michelle Webb.
# # #