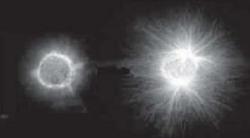 Now you have the opportunity to build your dreams and desires. We invite you to be part of our mission, to make a difference, and enjoy the abundance in life
European Union (PRWEB) April 29, 2010
Amega Global is a world class leader in wellness technology promoting total wellness and self-care products, such as the Amega Wand (AMWand), the Amega Pendant (AMPendant), the Bio-energetic bracelets, and EGA-Age Defiance. These products put balance into our body and assist it in self-healing.
Amega Global's products and services are fortified using its own futuristic proprietary technology, the AMized® Fusion Technology, which harnesses the Natural Life Force Energy to promote total wellness. With application of the AMized® Fusion Technology process, any matter, whether it be organic, abstract, power, stone, metal, or any substance, can be enhanced to resonate at Zero-Point field. Amega Global manufactures its own products in its various plants in South Korea, Singapore, Malaysia, and Hong Kong. These products then undergo the energization process in Amega Global's exclusive state of the art facilities.
Amega Global LLC was incorporated in February 2006 in Delaware, USA by a consortium of three companies with varying interests. The company operates from its regional headquarters in Singapore with entities in 15 countries, with sales channels in more than 125 countries, with more than 5000 stockists, with more than 550,000 associates, and over 1.6 million satisfied customers worldwide. It is managed by a team of professionals of different nationalities and diverse areas of skills and expertise, while being supported by 140 strong key executives.
"Now you have the opportunity to build your dreams and desires. We invite you to be part of our mission, to make a difference, and enjoy the abundance in life," said Arun Kemer, CEO, Amega Global LLC.
Independent Business Associate Enrollment, as well as Amega Global Products available at http://www.AmizedFusionTechnology.com
###