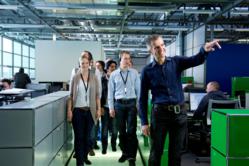 This next-generation guide-U offers the best sound quality in the industry and with its flexible configuration options suits all group sizes and situations
(PRWEB) April 23, 2010
Murten, Switzerland Phonak Communications today announces the next-generation version of its popular guide-U wireless tour guide system, which features new speech extracting sound technology and full interactivity for highly engaging corporate and factory tours.
All-new guide-U is a sleek, elegant guiding system that is suitable for use at every type of visitor destination; from large corporate visitor centers and tourist attractions to noisy factories and production plants.
"This next-generation guide-U offers the best sound quality in the industry and with its flexible configuration options suits all group sizes and situations," says Evert Dijkstra, Managing Director of Phonak Communications. "We are confident it will more than meet the needs of visitor centers and tourist attractions for many years to come."
guide-U employs Phonak's celebrated Dynamic Speech Extractor technology. Optimized for use with guide-U's new presenter boom-mic, this provides industry-leading speech sound quality, even in potentially noisy environments such as factories or tourist hot-spots.
Dynamic Speech Extractor identifies and separates out speech sounds from the surrounding ambient noise, automatically adjusting the output of each visitor's audio to provide the clearest contrast against these potentially distracting sounds. The result is an enhanced listening experience that only guide-U can provide.
guide-U now also enables interactive group discussion, allowing additional presenters and visitors to join in the conversation by broadcasting their comments directly to other receiver-wearers. Thanks to its support of Phonak's proprietary MultiTalker Network, up to 9 additional transmitter microphones - including a new visitor-friendly passaround microphone - can interact alongside guide-U's primary transmitter (used by the group's guide or leader).
The full guide-U system features one or more speech transmitters (up to 10 in total), while visitors wear the elegant guide-U receiver around the neck and can choose between traditional headphones or guide-U's alternative 'around-the-ear' headset. Thanks to guide-U being a multi-frequency platform several guide-U groups can easily operate in the same area. A public area transmitter, the TX300V, is also available, allowing guide-U to be permanently installed in public venues such as theatres and houses of worship.
The new guide-U is available this summer from Phonak distributors around the world.
guide-U is currently the wireless tour guide system of choice at numerous sites around the world, including: BMW Welt (Munich Germany), Lockheed Martin Aeronautics (Fort Worth, TX, U.S.) U.N. Visitor Center (New York), Guinness Brewery (Dublin, Ireland), US Capitol Visitor Center (Washington D.C.), Roman Baths (Bath, England), Museum of Orsay (Paris), Dresden's State Art Collection and many more. For further guide-U details please visit http://www.phonak-communications.com
Sign-up for Phonak news updates by e-mail here: http://www.phonak-communications.com/en/company/news/
###