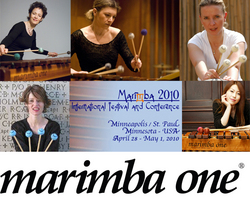 Arcata, CA (Vocus) April 10, 2010
Starting on Wednesday, April 28, the Ted Mann Concert Hall of the University of Minnesota will resonate with the deep warm sounds of dozens of marimbas - large percussion instruments similar to xylophones.
The festival is the brainchild of Fernando Meza, Director of Percussion Studies at the University of Minnesota, who has partnered with the Minnesota Orchestra, St. Paul Chamber Orchestra, and other Twin Cities institutions to celebrate the marimba around the globe.
The premier maker of concert marimbas, Marimba One of Arcata, California, whose innovative instruments can be found in concert halls and conservatories from Tokyo to the Twin Cities, is a key sponsor.
Dozens of marimbists from scores of countries will gather at various locations in the Twin Cities from April 28 to May 1 to share music and foster cross-cultural understanding.
Included among them are five virtuoso marimbists: Katarzyna Mycka of Poland, Nancy Zeltsman of the U.S., Ivana Bilic of Croatia, Beverley Johnston of Canada, and Eriko Daimo of Japan.
To learn more about Marimba One and its custom instruments, go to Marimba One or contact Denise Fitzgerald at (707) 822-9570.
###