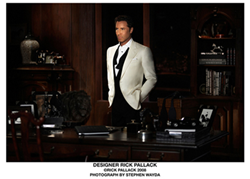 The designs of the award winning celebrity designer Rick Pallack and the world famous screen credit 'Wardrobe Designed By Rick Pallack' have graced movie and T.V. screens over 100,000 times in up to 200 countries for the world record by a fashion designer
Los Angeles, CA (PRWEB) May 11, 2010
The Rick Pallack luxury designer brand heritage is very rich. The fashion designer's elegant creations have been worn for many famous historical celebrity weddings. The weddings include Senator Edward Kennedy's, John F. Kennedy Jr.'s, Caroline Kennedy's and the wedding of Marlon Brando's son, Miko Brando. Hugh Hefner dressed in a Pallack tuxedo for his nuptials and has worn Pallack designs for the past two decades. Pallack also designed the Royal wedding attire for a European Prince to a Hollywood movie star. Pallack designs will be featured at RickPallack.com, premiering soon.
Pallack's iconic designs have been worn by six Presidents of the United States including Bill Clinton, Ronald Regan and George H. Bush. Senator Edward "Ted" Kennedy wore Pallack attire from his senate wardrobe to sportswear sailing in Hyannis Port for over 20 years. Kennedy and Pallack developed a long time friendship. Jackie Kennedy Onassis loved ordering luxurious gifts from Pallack, especially for John F. Kennedy Jr. Sylvester Stallone sported stylish Pallack wardrobes in the later Rocky movies. Frank Sinatra's famous black silk bow ties were by Pallack, self tied of course. Pallack's famous designs are now featured in the Los Angeles Grammy Museum for designing several of Michael Jackson's most iconic looks.
The Rick Pallack brand has been the official wardrober to the announcers of the NFL, the Los Angeles Lakers, the Kings and wardrobed the Olympic commentators. Many of the world's greatest athletes and sports stars have worn his fashionable wardrobe such as Sugar Ray Leonard, Oscar De La Hoya, Wayne Gretzky, Magic Johnson, Pat Riley, George Foreman, Muhammad Ali, Evander Holyfield, Mike Tyson, Sandy Koufax, Bob Costas, and Chick Hearn.
Countless celebrities and movie stars have dressed in Pallack designs including Tom Cruise, Sylvester Stallone, Jim Carrey, Bruce Willis, Alec Baldwin, Tom Hanks, Mel Gibson, Kevin Costner, Arnold Schwarzenegger, Michael Douglas, Pierce Brosnan, Gregory Peck, Leonardo DiCaprio, Jay Leno, Donald Trump, Michael Jackson, Clint Eastwood, Marlon Brando, Johnny Carson, Senator Edward M. Kennedy, Hugh Hefner, Frank Sinatra, Smokey Robinson, Mick Jagger, Tony Curtis, and the Disney Family.
Pallack has created luxurious designs, which have been worn by American Royalty, Hollywood Royalty, Rock Royalty, and European Royalty all at the same time. The International Best Dressed List by Eleanor Lambert has recognized and honored over 40 of Pallack's well dressed clients.
Pallack has appeared on the OPRAH Show doing a celebrity makeover for the red carpet. He and his fashion shows have appeared regularly on several TV talk shows. Pallack's been featured by the news on ABC, CBS, NBC, CNN, HBO, and Entertainment Tonight.
Rick's brand heritage began at the age of 10 designing and selling cuff links and by the time he was 12, was coordinating and selling outfits in a men's store on Rodeo Drive in Beverly Hills. There he assisted Steve McQueen, Elvis Presley, Frank Sinatra and The Rat Pack. At age 16, Rick was selling men's wear from the trunk of his car and soon there after setup shop in his apartment. His dream came true when he opened the now legendary Rick Pallack haberdashery. His designs, style, and business acumen have resulted in his achieving the highest sales per-square foot of any men's clothing store in the world for over a decade.
Rick Pallack has been twice awarded the Outstanding West Coast Menswear Retailer Award by the fashion industry. The Fashion Institute of Design and Merchandising, FIDM, created the "Rick Pallack Scholarship Award" and the Boy Scouts of America honored Rick with their "Career Achievement Award". Honors followed from both President Ronald Reagan and President George H. Bush. Pallack has served on the board of D.A.R.E., numerous charities, and has The Rick Pallack Foundation.
The exclusive Rick Pallack brand and the world famous screen credit "Wardrobe Designed By Rick Pallack" have graced movie and television screens more than 100,000 times in up to 200 countries for the world record by a fashion designer. His celebrity wardrobing credits appeared on ABC, CBS, CNN, Disney, FOX, HBO, MTV, NBC, VH-1, as well as for the NBA, NFL, Lakers, Kings, Primetime Emmys, A Night At The Academy Awards, the Miss Universe and the Miss USA pageants. The San Francisco Chronicle has written that "Pallack is the most influential wardrobe specialist on network TV." Pallack designs have been featured in movies for Paramount Studios, Warner Bros., Universal, MGM, Fox, Disney, and Sony Studios.
The Los Angeles Mayor proclaimed "Rick Pallack Day" in the City of Los Angeles stating it was "A unique tribute to his sense of taste, and style as a leading California designer...he has exemplified the highest standards of achievement and role modeling…and the highest standards of a community leader and businessman…and he has brought credit to the Los Angeles design community by having his fashions adopted throughout the country…and it is to his added credit that his fashions are seen on television and in movies throughout the country."
The Design House of Pallack designs luxurious, classic, contemporary, masculine and sartorial collections. The collections include tuxedo's, formal wear, evening wear, suitings, business wear, luxurious sports wear, active sports wear, denim, golf, tennis, ski, beach, spa, gym, athletic, home, travel, footwear and all coordinating accessories for the best dressed man.
For more information visit: rickpallack.com
###