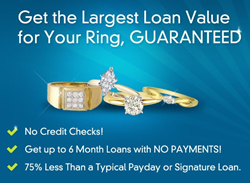 Armed delivery through Brinks is an impressive process
(PRWEB) May 27, 2010
Centennial, CO Internet Pawn, Inc., the first dedicated online pawn shop in the United States, today announced that it has an Armed Courier Service shipping option for its best customers through Brinks Global Services.
Internet Pawn added the Armed Courier Service to meet the demands of discerning diamond jewelry and luxury watch owners seeking short term loans from the Denver-based enterprise. Internet Pawn now offers customers across the United States two safe and secure shipping methods for its customers – via Federal Express, fully insured through Lloyds of London and now via Brinks Global Services. Brinks pioneered secured trade show transportation and storage for the diamond and jewelry industries. Brinks is the name trusted by fine jewelers and diamond dealers around the world.
"Armed delivery through Brinks is an impressive process," said Todd Hills, co-Founder and CEO, "We considered many alternatives to meet our customer's needs but ultimately we concluded that it just couldn't get any more secure than Brinks."
"In the brick and mortar pawn shop world, average pawn loans of $75 to $100 are the norm, but at Internet Pawn, we are seeing a whole new demographic of borrowers; a significant portion of our loans are in the $2,500 to $5,000 range and many are significantly more," added Jim McHose, co-Founder and CFO, "Given this type of clientele, we want to ensure that we have a transportation offering that matches the highest standards and Brinks is the leader in this category. Many customers find us online via Google through search terms like 'sell diamond ring', 'pawn diamond ring', 'pawn shops online' or 'sell rolex'. With Brinks we can service these clients privately and securely."
The Brinks Armed Courier service is available with next-day pick up and overnight delivery. Pick up may be scheduled from any business location and Internet Pawn will coordinate all the details of pick-up. After requesting a pick up, an armed Brinks guard will pick up a customer's package and enclose it in a Brinks delivery bag, which is kept under armed guard until it is delivered to our secure processing center in Denver.
About Internet Pawn
Launched in 2009 by 25-year industry veterans most recently responsible for the Jumping Jack Cash chain of traditional pawn shops in Colorado and Utah, Internet Pawn is the first Web-based pawn shop in the United States. As such, it is revolutionizing a 3,000-year-old industry by guaranteeing secure, confidential, asset-based loans with consumer-friendly rates and terms online. Internet Pawn offers loans based on the collateral of customers' personal valuables providing cash quickly with no payments for six months. A member of the Better Business Bureau and National Pawnbrokers Association, Internet Pawn guarantees a premium value based on its experience and proprietary valuation technology, and all transactions are conducted from the privacy of the customer's home. For more information, go to https://pawngo.com/.
###