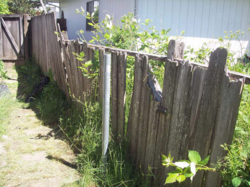 The Ugliest Fence Contest is our most popular event all year. People are amazingly proud of their old, broken, falling-down fences
(PRWEB) June 10, 2010
Portland, OR That eyesore in your backyard could be your ticket to a new cedar fence. In honor of its 30th anniversary this month, Rick's Custom Fencing & Decking is awarding a prize to the Northwest's ugliest fence.
Rick's annual Ugliest Fence Contest encourages homeowners to be proactive about fixing or replacing their old, dilapidated fences. To participate, Oregon and Washington residents can send in their ugly fence photos now through June 30 for a chance to win 100 feet of wood fencing.
"The Ugliest Fence Contest is our most popular event all year. People are amazingly proud of their old, broken, falling-down fences," said Rick Stanley, a top Northwest fencing materials expert and founder of Rick's Custom Fencing & Decking. "Still, we've never had a winner who wasn't excited about replacing it with a new cedar fence."
Photos and entry forms can be dropped off at one of Rick's five fence stores in Vancouver, Hillsboro, Gresham, Salem and the Tri-Cities; emailed to contest(at)ricksfencing(dot)com; or submitted via US Mail to: Ugliest Fence Contest, 4543 SE TV Hwy, Ste A, Hillsboro OR 97123. Visit the website to download a contest entry form.
The Ugliest Fence Contest coincides with Rick's 30th anniversary extravaganza, which takes place throughout the month of June. With 30 years of experience in the fencing and decking industry, Rick's Custom Fencing & Decking has become one of the Northwest's top resources for fencing and other outdoor projects.
The premier fencing and decking retailer is celebrating the occasion with coffee and birthday cake every weekend in June at all five stores, plus great deals on fencing materials and deck installations—including Western Red cedar fence boards for only 99 cents. No purchase is necessary to participate in the festivities.
About Rick's Custom Fencing & Decking
Since 1980, Rick's Custom Fencing & Decking has become one of the largest fencing and decking retailers in the Pacific Northwest. With locations in Gresham, Hillsboro, Vancouver, Salem and the Tri-Cities, the company has built a reputation for providing high-quality materials and top-notch construction expertise. Rick's specializes in custom deck and fence designs, materials and installations for both residential and commercial properties.
For more information about Rick's Custom Fencing & Decking, visit http://www.RicksFencing.com
Contact:
Nick R. Marshall
Rick's Custom Fencing & Decking
http://www.RicksFencing.com
###