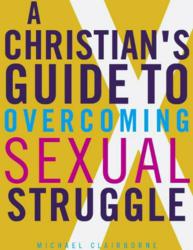 A Christian's Guide to Overcoming Sexual Struggle
West Palm Beach, FL (PRWEB) June 10, 2010
A new Christian book by author Michael Clairborne entitled, "A Christian's Guide to Overcoming Sexual Struggle", will be released soon to the public. This book has not yet been released. Please call Tate Publishing to pre-order this book for your bookstore. Please visit http://www.tatepublishing.com or call (888) 361-9473. This books ISBN# is 978-1-61663-976-1. This book will be available in both soft cover and as an audio book.
This book will focus on the area of a Christian's daily sexual struggle in the twenty first century. For the first time, Christian men and women can find freedom from the sexual struggles that they face daily.
Michael Clairborne has a unique understanding of the dangerous trends that happen in the spiritual world that keep Christian's bound to their struggles. He discusses such topics as: Are young adults responsible for their own sexual decisions?, How old are you sexually?, What do Christian men and women want from each other sexually?, How a Christian should date in the twenty first century. This book is written for all men and women in different age groups.
These topics and much more to include removing a past lover from your memory are all discussed in this book. Both Christian men and women will benefit from this book.
Michael Clairborne is a full time Christian prophetic minister and healer. This book will allow you to get healing and freedom. This topic has never been challenged like this before. Find a solution to your troubles. He includes actual cases of the clients that he has worked with in the past. Michael Clairborne shares with you the deepest parts of the human soul.
This book is for everyday Christian's that deal with sexual impulses that lead them into sin. Michael Clairborne answers the tough question of, "Does God want you to take your cheating boyfriend or girlfriend back?"
This book will be available in both bookstores and online. It will be available in both book and audio format. Bookstores are encouraged to order this book before its release date. Readers can pre-order this book through their local bookstore before its release date.
If you would like Michael Clairborne to appear on your next radio or television show, please contact Tate Publishing. Michael Clairborne is also available for book signings.
If you are a book reviewer and would like to receive a copy of Michael Clairborne's book to review, please write to michaelclairborne(at)yahoo(dot)com. Copies are limited and will be sent out on a first come, first go basis.
###