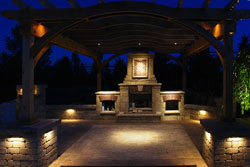 In addition to providing a carefully written step-by-step instruction manual, we welcome calls to our field and office support staff. We love answering questions and welcome any contact with our customers.
Hawthorne, NJ (PRWEB) June 30, 2010
CAST Lighting, a landscape lighting manufacturer known for its solid bronze lights, announced today the introduction of a new lighting kit unlike others in the market. Nearly all lighting kits, especially those sold in 'big box' stores, are comprised of low-quality lighting components. The CAST Lighting Kit contains only the highest quality components - (5) solid bronze engineered wall lights, marine-grade wire, and energy-efficient power supplies. This professional-quality kit is primarily intended for landscapers and hardscapers; but it can also be used by a determined do-it-yourselfer.
David Beausoleil, President of CAST Lighting, said "Hundreds of professional landscape lighting designers install our solid bronze Engineered Wall Light. Most of these professionals were trained by CAST and are familiar with the CAST Method of Installation. We created the lighting kit for landscape professionals who have not been trained. The kit contains a simple installation manual and all the components needed for the lighting system. This makes it easy for the landscape professional to illuminate a new retaining wall."
The CAST Method of Landscape Lighting Installation was developed by Beausoleil 12 years ago as a means to ensure that the lighting installation will never fail due to corrosion of the electrical components. The method includes use of solid bronze lighting fixtures, tin-coated marine-grade wire, and soldering and splicing techniques. Beausoleil teaches the method at Rutgers University and incorporates it into the CAST Lighting Hands-On Seminars attended each year by thousands of landscape professionals.