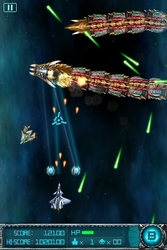 Cupertino, CA (Vocus) June 18, 2010
EpicForce Entertainment Ltd., developer of the critically acclaimed iPhone/iPod Touch game iFighter, today announced its latest title Super Laser: The Alien Fighter which is now available from the App Store.
"In Year 2036, the Earth's population has reduced to only 1.5 billions due to resources shortage and global climate warming. The bizarre climate is somehow suitable for the aliens to move in. These aliens can attach to any organism or machinery to evolve into new forms of life. The Earth has unfortunately become their second home. The human beings must act fast to destroy the aliens before they conquer the whole world. The Earth Alliance secretly sends a fighter equipped with the ultimate and most advanced weapon, called "Super Laser", to the aliens' stronghold..."
Super Laser: The Alien Fighter is guaranteed to please: on day one of the release it was featured by Apple as "new and noteworthy."
The game features 6 missions and a battle royale in the end. Each mission has a unique big boss for the ultimate challenge. There are 3 difficult levels and 3 different control options to cater for everyone. Painstakingly hand-drawn backdrops with a state of the art enemy design enhances the game, creating a visually stunning screen on the iDevices.
Plus+ integration is coming up soon in the next update. Players can compete with people around the world with the global leader board.
Super Laser: The Alien Fighter is on sale now for US$0.99 (regular price US$2.99) from the iTunes App Store.
iTunes URL: http://tinyurl.com/2dxjgwz
For more information about Super Laser: The Alien Fighter, please visit http://www.epicforce.com/superlaser.
# # #