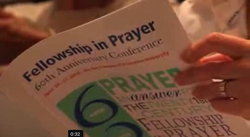 Prayer: An Answer for the 21st Century
New York, NY (Vocus) July 1, 2010
Does prayer have meaning in the techno-centric world of the 21st century? Fellowship in Prayer, a non-profit private operating foundation that promotes prayer and meditation as a means to achieving peace, explored that question at their 60th anniversary conference in Princeton, NJ, last Friday. Odyssey Networks was present to provide exclusive video coverage of notable presenters and attendees. Titled "Prayer: An Answer for the 21st Century," the event brought together religious leaders, academicians, clergy and lay people for a weekend of prayer, workshops, seminars and interfaith discussions on the role and relevance of prayer.
Odyssey's video crew recorded interviews on the Princeton campus with Fr. Edward Beck, author and host of Faith Matters Now on ABC TV; Gustav Niebuhr, former New York Times reporter and current Associate Professor of Religion and the Media at Syracuse University; Janet Haag, Executive Director at Fellowship in Prayer; and Sohaib Sultan, Princeton University Muslim Chaplain and member of the Fellowship in Prayer Board of Trustees, all sharing their perspectives on the power of prayer.
These interviews along with a report on the conference are now available at http://www.odysseynetworks.org.
The Fellowship in Prayer was founded in 1949 by Carl Allison Evans and Kathryn G. Brown in the wake of the Hiroshima and Nagasaki bombings and unrest that followed World War II. Fellowship in Prayer encourages multi-faith prayer and meditation in response to world crises.
About Odyssey Networks
Odyssey Networks is the nation's largest multi-faith coalition dedicated to producing and distributing media that promotes peace and tolerance and addresses issues of social justice. Established in 1987, Odyssey Networks is a service of the National Interfaith Cable Coalition, Inc. For more information visit http://www.odysseynetworks.org.
About Fellowship in Prayer
Fellowship in Prayer is a non-profit private operating foundation that publishes SACRED JOURNEY, a quarterly multi-faith spiritual journal, hosts an interactive website for spiritual practitioners, and sponsors programs that promote interfaith prayer, dialogue and cooperation with a view to cultivating peace.
###