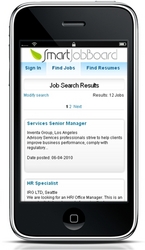 Today, offering access to your job board via a mobile phone is a great benefit, since mobile Internet is getting more and more popular
(Vocus) June 30, 2010
SmartjobBoard, job board software company, is pleased to announce the availability of mobile version plug-in. This new functionality allows accessing the job board site from anywhere using a mobile phone. It can be used to attract users that prefer to use their mobile Internet.
SmartJobBoard mobile version plug-in enables running mobile version of your job board on a separate URL (e.g. mobile.yoursite.com). This site is fully compatible with the most mobile browsers, such as: iPhone Safari, Internet Explorer, Nokia HTC and Opera Mini.
"Today, offering access to your job board via a mobile phone is a great benefit, since mobile Internet is getting more and more popular," says Rodion Telpizov, SmartJobBoard CEO. "Moreover, it also allows increasing traffic to your site with visits from mobile devices."
The plug-in includes a simplified site functionality allowing users to easily find what they need. Employers can search resumes, view resume details, save resumes or send to email for later review. Job seekers are able to search jobs, view and apply for a job, save jobs or send to email for later review. More information about mobile version can be found on SmartJobBoard web site.
SmartJobBoard is planning to extend job board mobile functionality in future. In particular iPhone application is planned to be developed in one of the next releases. Follow updates on http://www.smartjobboard.com to get the latest information.
###