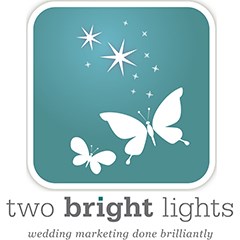 Our goal was to prove what marketing tactics worked by correlating practices to success in real-money terms
Chicago, IL (PRWEB) July 08, 2010
Two Bright Lights, Inc. (Chicago) set out to answer the question that wedding businesses are facing: How do I market my business when I have less money to do so? Until now, industry research has been bride focused which forced these entrepreneurial ventures to play the guessing game when it came to marketing. "Our goal was to prove what marketing tactics worked by correlating practices to success in real-money terms" co-founder, Siri Eklund explained.
In the 2010 Marketing Effectiveness Survey Two Bright Lights set out to answer questions that are constant fodder for debate: Does getting published in magazines and blogs matter? Should I blog? Which is better, Twitter or Facebook? Co-founder Rosalind Bordo commented, "With our large sample size, we were able to slice and dice the data to provide insights to specific functions in the wedding industry. Planners and designers are different than photographers so to lump them together as 'wedding professionals' is simply not useful."
The survey's findings were revealed at engage!10 :: cayman islands at the Ritz Carlton, Grand Cayman on June 8th. Engaging Concepts founder, Rebecca Grinnals commented, "We strive to be seen as the leader and the provider of the most timely and useful business advice in the wedding industry. The findings from the Two Bright Lights' survey were enlightening. We were thrilled to be the first to share the news."
One key finding of the survey was related to publicity. While the bridal print media has been under fire lately with three key publications closing in the last year, the power of media was proven. Planners and designers who submit their work for Real Wedding features made 56% more money than those who don't and photographers made 73% more money. The survey identified a major untapped opportunity; less than 42% of respondents were currently submitting their work for feature.
In the world of social media, it is tempting to think that more is better. The Two Bright Lights' survey found that it isn't enough to be social; you have to be smart. Most wedding professionals should spend less time blogging and on Facebook, and reallocate this time to building a business presence within the wedding Twittersphere and strengthening personal relationships in the local community.
Founded in 2009, Two Bright Lights (TBL) is a subscription-based pioneering online B2B wedding marketing service dedicated to improving marketing efficiency and results for photographers, planners, and vendors. Optimizing the power of social media and networking, Two Bright Lights maximizes networking and referral capabilities through features including image sharing, portfolio development, and inspiration board creation. Additionally, by streamlining the editorial process for Real Wedding features in print and online publications, Two Bright Lights boosts business visibility in a highly-competitive industry. Headquartered in Chicago, Two Bright Lights reaches worldwide through its online presence at http://www.twobrightlights.com.
Contact: Siri Eklund 415 890 4700
###