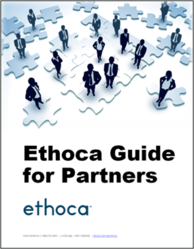 (PRWEB) July 09, 2010
Some of the biggest names in payment processing, fraud prevention, card issuing and identity management are partnering with Ethoca to help lower merchants' total cost of fraud and make online shopping an experience the public can trust. The new Ethoca Guide for Partners, shows why.
Ethoca360 Signals, ideally suited as a partner solution, evaluates order transaction data elements and finds links, matches and behavioral patterns in the Global Fraud Alliance (GFA) repository that indicate either risk (negative signals) or probable safety (positive signals). These raw data signals complement any fraud prevention services a partner has in place today, because they leverage the pooled GFA member payment experiences to enhance fraud scoring accuracy, reduce false positives, improve manual review productivity and enable better decision making, by providing information about potential fraud risk that can't be obtained any other way. Ethoca360 Signals can be completely contained and integrated into partner solutions. Other components of the Ethoca360 suite of card-not-present fraud solutions, including Ethoca360 SE/Plus and eCheck should also be considered by prospective partners who lack their own primary fraud prevention services platform.
Partners already on board include leading payment service providers like Royal Bank of Scotland (RBS) and leading fraud solution providers like 41st Parameter, which is supporting Ethoca's Ethoca360 Negative Signals service. Another type of partner is GB Group, one of the UK's leading Identity Management companies. And IMRG, the UK's e-retail member community, has chosen to offer accredited retailers access to free Negative Signals as part of their ISIS (Internet Shopping is Safe) program.
How partners benefit from collaborative fraud management
"Tapping into a rapidly growing global network of online merchants representing over 500M transaction experiences means higher accuracy of fraud screening and fewer false positives for your merchant clients," said Ethoca co-founder and CEO Andre Edelbrock. "That's because fraud is agnostic, and more data, from different merchants, industries and geographies improves the ability to detect and predict fraud risk. You also benefit from secure centralized data pooling across PSPs, issuers, fraud and identity solution providers and merchants. Our current partners grasped the value proposition, and now offer their clients access to a premier global anti-fraud service."
"Ultimately, collaborative fraud prevention helps make online shopping an experience the public can trust, which increases the revenue and profit potential for everyone," he adds. "The IMRG clearly recognizes this in their selection of Ethoca as a key supplier for ISIS accredited merchants. Consumers cite fear of online fraud as a key barrier to shopping online, and that's a problem that we can solve together."
Improving CNP fraud detection
Online retailers receive credit card orders when the customer is not present – through their website, by fax, by catalog, or by telephone -- and their efforts to fight fraud can quickly reach a point of diminishing returns.
The Global Fraud Alliance network, powered by Ethoca, enables broad, automated industry collaboration by merchants, payment processors, fraud solution vendors, PSPs and issuing banks. They pool their transaction data into a global repository managed by an independent third party, in full compliance with PCI DSS security standards and the strictest privacy laws and regulations.
When a company partners with Ethoca, data in the GFA repository is one of the factors contributing to end clients' risk scores. So he or she knows whether a transaction is linked to confirmed fraud or other high risk indicators. By using this data to screen transactions, merchants cut down on:
Money lost to fraudulent transactions
Cost of managing the anti-fraud effort
Cost of lost business when legitimate customers are refused, or asked to wait or prove their identity
That means:
Customers have a more positive shopping experience
Fewer rejected good orders (increased revenue)
Fewer falsely accepted bad orders (decreased fraud losses)
Lower costs to manage fraud
Screen shots, FAQs, and more in free Guide
The Ethoca Guide for Partners answers questions prospective partners often ask, including:
How do I get a Signal?
What do I do with a Signal?
How is privacy and security of my clients' data protected?
Who does Ethoca want as a partner?
What do I get?
What are my obligations as an Ethoca partner?
The Guide includes screen shots and tells how partners can get started without investing in integration. It is a free download available at ethoca.com/partnering/guide
About Ethoca
Ethoca360 fraud detection services leverage Global Fraud Alliance member data, the world's largest private database of high quality e-commerce transaction data. With Ethoca360 Signals this pooled data resource can be used by merchants and services providers as an enhancement to current anti-fraud measures.
Follow Ethoca at @ethocanews.
About the Global Fraud Alliance
The Global Fraud Alliance, powered by Ethoca, enables broad, automated industry collaboration by merchants, payment processors, fraud solution vendors, issuers and banks. Its rapidly growing database contains 600 million merchant and payment provider contributed records containing rich transaction information and outcomes across various payment types. Data can be linked by any attribute, offering a 360 degree view of behavioral patterns online that help identify both good and bad orders and customers.
###