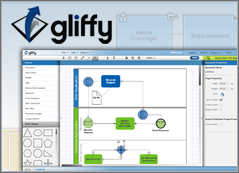 We are very happy to have Gliffy Online in the Google Apps Marketplace
San Francisco, CA (PRWEB) July 13, 2010
Gliffy Online, the world's most popular browser-based diagram and flowchart creation tool, joins the list of third party applications Google Apps (TM) users can now access with a single login. Gliffy broadens the path to its collaborative product's features by adding Gliffy Online to the Google Apps Marketplace (TM).
As an app in the Google Apps Marketplace (http://www.google.com/enterprise/ marketplace), all Google Apps domains can easily add the power of Gliffy Online to create, edit and manage professional quality flowcharts, diagrams, UML diagrams, network diagrams, floor plans, SWOT diagrams, wireframes, class diagrams, business process diagrams, and Venn diagrams. The cloud-based application lets users take complex information and organize it visually with drag and drop ease.
"We are very happy to have Gliffy Online in the Google Apps Marketplace," adds Scott McMullan, Google Apps Partner Lead for Google Enterprise. "Through the Google Apps Marketplace, software vendors like Gliffy are helping us build a rich ecosystem of integrated apps that work seamlessly with Google Apps, allowing IT administrators to leverage the benefits of cloud computing and extend Google Apps to meet more of their business needs. We are excited to make diagram and flowchart creation easier for the millions of Google Apps users who have embraced the cloud."
When a Google Apps admin adds Gliffy Online to a domain, users will see a link to the application in their Google universal navigation. They can access Gliffy Online through their single Google login.
Gliffy Online offers a free 30-day trial for new users. After the trial period expires, users can either opt to subscribe for as little as $5 a month, or continue to use Gliffy without charge on a limited basis.
The Google Apps Marketplace offers products and services designed for Google users, including installable apps that integrate directly with Google Apps. Installable apps are easy to use because they include single sign-on, Google's universal navigation, and some even include features that integrate with a user's domain's data.
Gliffy's flagship product Gliffy Online deserves its position as the world's most popular browser-based diagram and flowchart creation tool. As a cloud-based alternative to platform-restricted diagramming applications, Gliffy Online makes creating collaborative diagrams easier and cheaper without sacrificing professional-level quality. Since its inception, Gliffy has amassed a passionate customer base reflecting a cross-section of users from academia, enterprise, software development, and business.