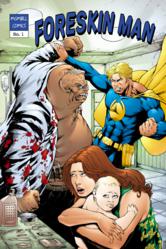 The Foreskin Man comic book uses popular art to shine a spotlight on the practice of infant circumcision
San Diego, CA (PRWEB) July 21, 2010
As comic book fans from around the world descend on this sun-drenched city to attend the 41st annual Comic-Con, San Diego's own MGMbill.org has launched a new 8-page comic book entitled Foreskin Man. The comic spins the fictional tale of an intactivist superhero who attempts to rescue a young boy from being circumcised by his arch enemy Dr. Mutilator.
When not protecting children from dangerous circumcisers, Foreskin Man assumes his secret identity of Miles Hastwick, a former corporate scientist who runs the newly opened Museum of Genital Integrity. The museum's opening exhibit is a full size replica of an American style infant circumcision - something so lifelike that even the museum's supporters have a difficult time looking at it.
Foreskin Man #1 is written and created by Matthew Hess, who is president of MGMbill.org. The group is pushing to enact U.S. legislation that would protect boys from forced circumcision the same way that girls are protected.
"The Foreskin Man comic book uses popular art to shine a spotlight on the practice of infant circumcision," said Hess. "Over the years there have been a lot of rationalizations and justifications to keep it going, but the bottom line is that forced circumcision violates human rights. I hope this story will help convince some people of that in a way that words alone cannot."
Although Hess wrote the story in Foreskin Man #1 himself, he had the artwork commissioned to give it a professional comic book feel.
"I've been a fan of comic books since before I could even read the words in them, so I wanted the art to be at least as good as the story," said Hess. "I'm very happy with how it came out, and I hope readers enjoy it."
Foreskin Man #1 is available to read and download for free at http://www.foreskinman.com. Printed copies may also be purchased online, or by ordering through a local comic book store.
# # #