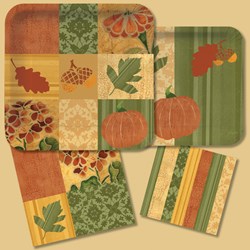 Thanksgiving is such a family oriented holiday, and we are so happy to offer such warm, welcoming party collections for friend and family gatherings this year. MyPaperShop enjoys providing so many classic fall favorites at prices everyone can appreciate
Orange, CA (PRWEB) July 21, 2010
MyPaperShop.Com has just released a vast selection of new Thanksgiving Themed Party Supplies. Our Discount Autumn and Thanksgiving Party Supplies can be found exclusively online at My Paper Shop in bulk quantities and wholesale prices.
New Fall and Thanksgiving party collections include Autumn Harvest, a contemporary design featuring pumpkins, acorns, and fall leaves. This tasteful design is composed of the elegant paper tableware that includes beverage and luncheon napkins, dessert and luncheon plates, guest towels and plastic table covers.
"Thanksgiving is such a family oriented holiday, and we are so happy to offer such warm, welcoming party collections for friend and family gatherings this year. MyPaperShop enjoys providing so many classic fall favorites at prices everyone can appreciate," says company president, Todd Theodossin.
Fall reusable plastic trays feature classic leaf motifs that make the perfect accent to any Thanksgiving table setting. These serving trays are suitable as table centerpieces with fresh fruit or nuts, or perfect for pre-feast appetizers.
Autumn Party Decorations feature decorative banners that include leaves and the phrase "Five Thanks" in gorgeous fall shades of brown and yellow. Festive Fall Party Confetti includes a wide array of maple leaves for adding a dash of color to any table top or buffet display.
Festive Fall table centerpieces include large and small honeycomb turkey centerpieces, which are classic accents for any Thanksgiving table setting.
Thanksgiving and Autumn Assorted Cutouts are perfect for those teachers that enjoy dressing up the classroom for the harvest season. Fall themed cutouts are available in various designs such as pilgrims, Indians, scarecrows, turkeys and maple leaves.
Prices for Thanksgiving and autumn themed beverage and luncheon napkins range from $18.95 to $54.95 for case quantities of 192-1,000 napkins. Dessert and luncheon plate prices range from $18.95 to $66.95 in cases quantities of 96-180 plates. Fall themed accessories and decorations are priced as low $8.95 and party supply blogs customized for My Paper Shop.Com feature great ideas and helpful tips for decorating.
My Paper Shop.com also offers Super Saver Discounts, under which minimum orders of $200 qualify for a 10% discount, orders over $650 qualify for a 15% discount and orders over $1500 qualify for our maximum 20% discount. Free ground shipping on orders over $40.00 USD is also available for customers shipping to the contiguous 48 United States. FedEx International shipping rates can be calculated during the checkout process.
My Paper Shop.com is an established discount party supply vendor since 2000 and supplies to individuals and businesses worldwide. For more information, on tabletop paper products or to purchase products, please visit MyPaperShop.com or call toll free 888-412-SHOP / 714-769-7000.
###