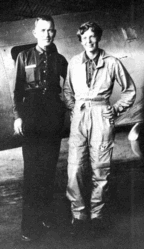 Chicago, IL (PRWEB) July 26, 2010
The 14th Annual Atchison, Kansas Amelia Earhart Festival blocked traffic around the Earhart Birthplace Museum. And during the celebration it did not go unnoticed that The Int'l Group for Historic Aircraft Recovery (TIGHAR) had returned from Nikumaroro Island, in the nation of Kiribati, with their 10th consecutive failure to produce "smoking gun" evidence of Earhart's castaway presence there. In fact their artifacts suggest that the findings of a former Operation Stargate military psychic remote viewer are more likely!
As an advocate of the Castaways theory that Earhart landed safely at "Niku" Island,and radioed for help, TIGHAR , continues to present problems. For example, Director Ric Gillespie has never explained the origin of the battery recharge fuel required to launch a five day broadcasting campaign. Even more unlikely is that from TIGHAR's last "credible broadcast" time stamp, the airplane had to vanish over the reef's edge within a narrow 36 hour window before the U.S. Navy's search plane fly over.
Additionally, TIGHAR has signaled a major policy change from their previous, "…it is difficult to see the ocean as a likely repository for the aircraft…" hypothesis. In error for twenty years, their website has flipped the theory and announced the ocean, "As the most logical place." But most think it would be proper for Director Gillespie to justify how the tidal action that pushed the plane into the lagoon for twenty years, actually pulled it out into the sea!
Because of Gillespie's reported refusal to review McMoneagle's map, two Nikumaroro Island scenarios remain: TIGHAR's western edge Castaways broadcasting vs. McMoneagle's southeastern coral head crashed and vanished.
In an article by Discovery News, Inc. it was pointed out that, "Gillespie and his team will be searching…for evidence that Earhart's twin engine plane…did not crash in the ocean and sink…" "This searching for a personalized scenario is the problem", said Seeds, "Rodocker and McMoneagle could find this plane quickly. Their strength is that neither care how the flight ended." As the Castaways theory losses ground, some Amelia Earhart Historians privately claim they will be watching for chicanery on the future 75th Anniversary trip.
Now backed up into the northwest corner, TIGHAR will make its last stand by going 1000 feet off the atoll's western edge. If this fails, McMoneagle's South Aukaraime waters some 3 miles away off Nikumaroro's south eastern edge, in 650 feet of water, will gain renewed interest. But wherever the debris field is found, it will also close out a great era for those wonderfully dedicated people in Atchison, Kansas.
McMoneagle's full U.S. Military Intelligence equivalent report and map data was only released in 2010 in, Amelia Earhart – Take Off to Oblivion (ISBN #978-0-9826928-0) and was reportedly looked at by some members of the last excursion.