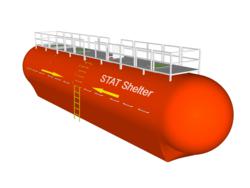 After watching the devastation and aftermath of the 2004 Indonesian tsunami and hurricane Katrina events, I committed myself to designing a preparedness tool capable of offering an effective level of protection against such catastrophic events
San Juan, PR (PRWEB) July 27, 2010
A US inventor unveiled today a revolutionary shelter system that could become the first line of defense for governments against two of the most devastating natural events on the planet, tsunamis and major floods. This novel shelter, capable of floating, could prove to be an invaluable contribution toward emergency preparedness worldwide.
"After watching the devastation and aftermath of the 2004 Indonesian tsunami and hurricane Katrina events, I committed myself to designing a preparedness tool capable of offering an effective level of protection against such catastrophic events" said Miguel A. Serrano, a land development consultant from Puerto Rico. "The end result is a revolutionary shelter system that is both highly effective, and cost efficient", he added.
This new system, for which a US patent has been allowed, is called the STATIM (Storm, Tornado And Tsunami Interconnected Modules) Shelter System. In essence, it is an enclosable hull comprised of a series of pre-cast concrete modules, similar to large diameter concrete drainage pipes. Once assembled via gasketed joints, and a post-tensioned cables technique, it provides a water-tight environment with positive buoyancy and self-righting capability. Inside, the shelters are equipped with secure seating arrangements for as many as 50 occupants, ventilation, and various options of survival gear and supplies capable of sustaining the occupants during and after the actual event, until available rescue resources can assist. The STATIM Shelter can be considered the equivalent of an "inland" life boat.
"Concrete is a low cost material readily available worldwide, doesn't require skilled labor, and has a long life cycle. Additionally, it is strong and provides the necessary mass and inertia for the shelters to safely handle the initial event forces." explains Serrano. "The modular concept and post-tensioning technique allows for off-site mass manufacturing, ease of transportability, and rapid final assembly once the modules arrive to the final installation sites".
The system is already receiving rave reviews from governments and other prospective users, such as coastal resorts and industrial facilities operators. Bill O'Leary, an Australian marine industry expert and entrepreneur who has lived for the past 28 years in Phuket, Thailand, regards the STATIM Shelter System as "...an amazing, winning idea, with the potential to become a substantial contribution to many vulnerable communities around the world…" O' Leary is author of the book "Tsunami Stories", a compilation of 2004 Indian Ocean tsunami survival stories, event of which O' Leary is an actual survivor himself.
There are thousands of islands and coastal communities around the world where topography, proximity to seismic faults, remoteness, or lack of vertical evacuation alternatives make them extremely vulnerable to the devastation of such events. The STATIM Shelter brings a feasible solution for the safety and peace of mind of those communities, and the millions of constituents who reside in them. "Our focus now is on advancing the prototype development and testing phase in order to expedite global implementation" stated Serrano. "The STATIM Shelter is a straight forward approach which clearly represents a major breakthrough on how humanity will address these threats from now on."
###