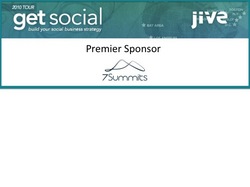 7Summits is a valued partner, and we are pleased to have them onboard as the premier sponsor of Jive's Get Social Tour in Chicago and Philadelphia
Milwaukee, WI (PRWEB) April 26, 2010
Jive Software recently announced its Get Social Tour, a 10-city, national event designed to share best practices from companies leading their own Social Business Software (SBS) transformation. The Jive Get Social Tour brings together Jive's top partners and industry-leading executives to lend insight into how businesses can achieve measurable benefits by changing how they engage with people inside and outside their company.
7Summits announced today that they are the Premier Partner selected by Jive Software to support Jive's Get Social Tour in both Chicago and Philadelphia. Only one Jive Software Partner is being presented in each city. Jive's Get Social Tour launched April 21st in Los Angeles, with scheduled stops in Houston, Toronto, New York, San Francisco Bay Area, Seattle, Washington DC, Chicago, Philadelphia and Boston. Keynotes from Intel, Mattel, and a variety of other industries will present workshops on social business strategy, with case studies from trailblazing customers and product experts who have successfully leveraged Jive's Social Business Software. 7Summits provides social business strategy and related services that leverage Jive's SBS to deliver custom, tailored social communities. Jive SBS is applied to key business imperatives including Customer Service, Product Development, Human Resources, Marketing, Sales, and Operations to drive measureable business value. Representatives from 7Summits will be available to meet with attendees during the Get Social Tour dates on May 25th in Chicago and June 17th in Philadelphia.
"7Summits is excited to support Jive in two of the 10 cities for their Get Social Tour. We meet with companies every week that are either executing or evaluating the transformation to a more socially designed business. These events present a tremendous opportunity to meet with industry visionaries from Jive Software while having direct conversations with companies that are successfully executing in this space," said Paul Stillmank, CEO of 7Summits.
7Summits is in the process of expanding its staff to address needs on a more national level. Jive recently announced a record first quarter as companies continue to adopt its industry-leading software for both internal and external communities.
"Jive Software is excited to collaborate with 7Summits as a social business partner delivering strategic solutions to Fortune 500 clients. The value that 7Summits brings to the table really helps Jive customers leverage our Social Business Software platform to its full potential through community adoption strategy and user interface design, along with development of engaging creative treatments. 7Summits is a valued partner, and we are pleased to have them onboard as the premier sponsor of Jive's Get Social Tour in Chicago and Philadelphia," said Bill Fitzgerald, Senior Director of Alliances, Jive Software.
Participation by 7Summits in the Philadelphia market further supports the firm's position to serve clients at a national level.
About 7Summits
7Summits is a Social Business Agency founded in 2009 with the mission of formulating social business plans that drive value through participation, collaboration, and optimization. The firm refers to this as Applied Social Media. 7Summits is dedicated to helping clients apply social media to better achieve their business imperatives by applying social technologies through their creative, digital expertise. The firm offers deep expertise in marketing and social media strategy to help organizations wade through the hype and focus on moving key operational metrics.
For more information, contact:
Carolyn Fraser
7Summits
External Communications
+1-262-366-8552
carolyn.fraser (at) 7SummitsAgency (dot) com
###