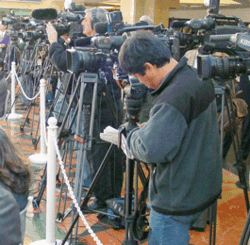 Like everyone else who volunteers to contribute to industry activities and organizations, it becomes icing on the cake when you receive an award, too, for your efforts
(PRWEB) September 03, 2010
Los Angeles, CA (PRWEB) September 3, 2010 -- International Trade Education Programs (ITEP)]Founder and CEO Carol Rowen will be honored September 16, 2010 by the Maritime Industry and International Seafarers Center for her outstanding contributions to the industry and community. The event starts at 5:00 and will be held at the Queen Mary in Long Beach during the 10th Annual "Great Tug Boat Races of San Pedro Bay.
"Like everyone else who volunteers to contribute to industry activities and organizations, it becomes icing on the cake when you receive an award, too, for your efforts," said Rowen, who is retiring from ITEP. "Our maritime industry leaders have been generous to ITEP and have helped our students build strong character, become successful and live the American dream."
After eight years of distinguished service as a Commissioner for the Port of Los Angeles, in 1999, Rowen founded International Trade Education Programs, Inc. (ITEP). ITEP programs assess the needs of the high school and the surrounding transportation, logistics and industry needs. Schools with which ITEP has worked have needed to boost graduation rates, decrease dropout rates, and enhance standardized test scores. Even those students graduate from these struggling schools rarely have opportunities or motivation to pursue further education or employment. ITEP helps provide programs to fulfill those needs.
"After an outstanding 17 year career serving the maritime industry and a decade of dedication to ITEP students, the ISC felt it was the perfect opportunity to thank Carol Rowen for the outstanding achievements of ITEP in preparing students for careers in the maritime industry and to wish her all the best for a healthy and happy retirement," said Dinner Chair James Callahan, Maritime Industry Salute, International Seafarers Center Long Beach-Los Angeles. Callahan is also the President & CEO of Nautilus International Holding Corporation, a big supporter of ITEP.
Through ITEP, Rowen has united business professionals, educators and parents in establishing international trade academies to help meet the needs of the expanding maritime trade industry while providing exceptional opportunity to economically underserved students. A model program is active at Banning High School in Wilmington with newly formed academies in Carson, Barstow, San Pedro and Oakland. Rowen is also co-developer of an international trade certification program for high school students to be available to California graduating seniors.
Rowen has served on numerous committees including: the Board of Governors for the Los Angeles Economic Development Corporation (LAEDC) for which she is also a member of its Transportation, Workforce Development, and World Trade Center Committees. She also sits on advisory boards for Cal State Dominguez Hills, UCLA Extension, and Santa Monica College.
For more about the event contact: the Propeller Club of LA-LB at 808-951-2842 or [email protected] Tables of 10 are available and individual tickets are $100 for the fundraising event. Proceeds benefit the ISC.
For more information about ITEP and to learn how you can participate and support the national nonprofit model program visit: http://www.mayocommunications.com.
For images, media interviews contact: Aida Mayo or George Mc Quade at 818-340-5300, [email protected]. For the full story on ITEP visit: http://www.mayocommunications.com and click on press releases. For all your public relations and corporate social responsibility needs contacts MAYOPR.com.