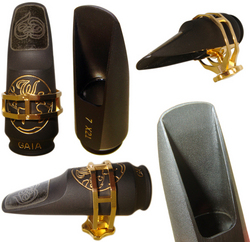 Theo is actively and sensitively evolving the art and science of mouthpiece making and raising the bar within the industry - Nelson Rangell
Bellingham, WA (PRWEB) September 11, 2010
Theo Wanne has profoundly combined vintage and modern mouthpiece design for a breakthrough in soprano mouthpiece design.
The GAIA tends towards a traditional Jazz taste, but is quite versatile. The GAIA has a slight roll-over baffle, precision-sculpted inner sidewalls, and Theo's revolutionary True Large Chamber for a simply huge and alive vintage sound.
The GAIA soprano's True Large Chamber has broken new ground, opening up a whole new world for the soprano saxophone. The window/floor/baffle/chamber/side wall configuration is totally unique, giving a sense of personal freedom and expression not possible before in a soprano mouthpiece.
And because the GAIAs are manufactured with accuracy higher than any other mouthpiece, vintage or new, the GAIA is truly revolutionary in bringing the vintage sound up to date both in design and construction.
Theo Wanne Classic Mouthpieces
445 Sequoia Dr Suite 113
Bellingham, WA 98226
(360) 714- 9000 x243
http://www.theowanne.com
###