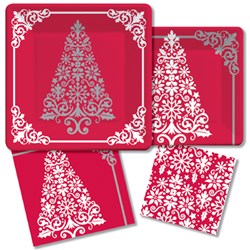 The Christmas holiday season is only months away and we are happy to unveil such festive ensembles and décor. We have patterns to fit everyone's events and wishes for the winter season
Orange, CA (PRWEB) September 14, 2010
MyPaperShop.com has released a wide variety of the newest Christmas Themed Party Supplies just in time for the 2010 winter holiday season. Our Discount Christmas Party Supplies can be found exclusively online at My Paper Shop in bulk quantities and wholesale prices.
Christmas party supply collections include Classic Christmas, an elegant winter holiday design. This traditional pattern features silver and white Christmas trees with beautiful border accents. The ensemble is composed of the basic tableware and includes beverage and luncheon napkins, dessert and luncheon plates, cups, and table covers.
"The Christmas holiday season is only months away and we are happy to unveil such festive ensembles and décor. We have patterns to fit everyone's events and wishes for the winter season," says national sales coordinator, Claudia Rojas.
Also available this season at My Paper Shop.com, are two beautiful recycled Christmas designs, Letters to Santa and Christmas Poinsettia. These environmentally friendly designs are made up of 100% recyclable materials and all products are printed using water-based inks, which will reduce waste and preserve natural resources. Each design includes: napkins, plates and paper table covers that feature the GreenStyle™ logo on the backside of each product's retail package.
Christmas themed Better than Linen™ party ensembles that include Red Elegance, Green Elegance and Holiday Holly will continue to be offered as quality alternatives to real cloth linen table covers and napkins. Our Better than Linen™ napkins and guest hand towels are constructed from disposable premium weight paper that features a smooth, cloth-like feel. These collections offer color and elegance to Christmas dinner parties during the winter holiday season.
Metallic Table Covers in shades of gold, silver, red and green are available for hosts and event coordinators who wish to add extra shine to holiday events. These popular Christmas tablecloths are available in round and banquet sizes.
Annual Christmas gifts for friends, family, co-workers and teachers quickly become a tradition. My Paper Shop.com offers a wide range of holiday themed gift boxes and treat bags. These Christmas gift boxes are available in festive tree shapes and adorned with holiday designs that include Santa Claus, snowflakes, snowmen and stars.
Christmas Party Accessories feature fun flashing buttons with a large variety of Christmas designs and festive phrases such as "Meet Me Under the Mistletoe" and "Santa's Little Helper." Seasonal party accessories are the perfect way for integrating party guests or to single out booth leaders or event ushers.
Prices for Christmas themed beverage and luncheon napkins range from $18.95 to $82.95 for case quantities of 144 to 6,000 napkins. Dessert and luncheon plate prices range from $18.95 to 59.95 in cases quantities of 96 to 300 plates. Holiday themed accessories and decorations are priced as low $13.95 and our party supply blog features great ideas and helpful tips for decorating.
My Paper Shop.com also offers Super Saver Discounts, under which minimum orders of $200 qualify for a 10% discount, orders over $650 qualify for a 15% discount and orders over $1200 qualify for our maximum 20% discount. Free ground shipping on orders over $40.00 USD is also available for customers shipping to the contiguous 48 United States. FedEx International shipping rates can be calculated during the checkout process.
My Paper Shop.com is an established discount party supply vendor since 2000 and supplies to individuals and businesses worldwide. For more information, on tabletop paper products or to purchase products, please visit http://www.MyPaperShop.com or call toll free 888-412-SHOP / 714-769-7000.