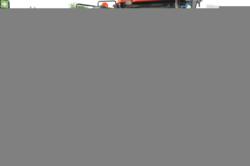 I am calling for a cloture vote on a stand alone Black farmers bill
(PRWEB) September 20, 2010
Washington, DC Black farmer John W. Boyd, Jr. continues his daily rides on his tractor "Justice" from Virginia to Capitol Hill on Monday, September 20. Boyd, president and founder of the National Black Farmers Association, plans to make the ride through Washington, DC each day the Senate is in session, until Senators recess in October.
Boyd, who has attracted national attention for his effort to highlight the "ridiculous" delays in funding the Black farmers discrimination case settlement, met with senior Administration officials at the White House on Friday and previously was greeted on the Hill by Senators Chuck Grassley (R-IA) and Kay Hagan (D-NC) as well as Congressman Tom Perriellio (D-VA). Boyd is expected to meet with Members of Congress each day this week.
"I am calling for a cloture vote on a stand alone Black farmers bill," said Boyd late Sunday evening before starting his second week of the tractor ride. "While there are lots of very important causes, the Black farmers know that unless this bill is considered on its own merits other bills that have nothing to do with this issue -- including the Cobell Native American trust fund case -- may keep it from passing. Black farmers are dying, in fact another farmer active in the movement died this past week, and I can't let politicians use other issues as excuses not to vote on justice for Black farmers."
On Monday, Boyd will depart from 1500 Arlington Boulevard in Arlington, VA at 10:30 AM, traveling across the Theodore Roosevelt Memorial Bridge into Washington, DC and up Constitution Avenue. Boyd will likely circle past the White House on the way. He is expected to arrive on Capitol Hill at the corner of Constitution Avenue and First Street, NW at 11:15 AM and he will be available for interviews at that location.
This Thursday, September 23, Boyd will arrive at the USDA at 10:00 AM on his tractor "Justice" and join with other Black farmers for a march up Capitol Hill to a rally and press conference at 11:00 AM at or near the Senate Swamp.
Important Notes:

The Black farmers settlement was reached by the Obama Administration (USDA and USDOJ) and the Black farmers
As CNN noted on Saturday, the $1.15 billion settlement has been approved in federal court but has yet to be paid
The House previously passed the settlement funding, but the Senate has failed to pass the funding no fewer than 8 times this session
Leaders in both parties say the funding is paid for, meaning offsets have been located and the funding will not add to the deficit
Contact: Adam Segal, (202) 422-4673 or adam(at)the2050group(dot)com
###