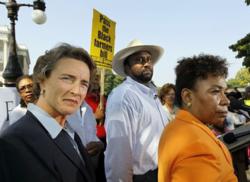 The Senate has a moral duty to immediately fund this settlement. No more political games. People are dying. The time to act is now
(PRWEB) September 24, 2010
Washington, DC The Senate should act immediately to fund the black farmers discrimination settlement, said John Boyd, president of the National Black Farmers Association on Thursday after marching with more than 100 black farmers to Capitol Hill, where key members of the Senate and House of Representatives echoed their call. Joining Boyd at the press conference were Senators Blanche Lincoln (D-AR), Mary Landrieu (D-LA), and Kay Hagan (D-NC) as well as Representatives Barbara Lee (D-CA), Chairperson of the Congressional Black Caucus, Sheila Lee Jackson (D-TX), and Bobby Scott (D-VA).
"The Senate has a moral duty to immediately fund this settlement. No more political games. People are dying. The time to act is now," said Boyd, who has become well known for driving his tractor, Justice, to Capitol Hill to rally lawmakers. At the press conference, Senators vowed to do everything possible to move the black farmers measure through the Senate, including, if necessary, a stand alone vote. Senator Landrieu said in a statement, "…if the political environment is such that no bill is moving, Senate Leadership will need to call up this stand alone bill and debate it on its merits. I think that Senate Leadership is going to need to take a good, long look at that option."
"The black farmers have had no better friend in the Senate than Senator Reid, and we trust his leadership and we take him at his word, which we hope will result in a successful unanimous consent motion that funds both the black farmer and Cobell settlement before this session ends...," said Boyd.
Senate Majority Leader Harry Reid (D-NV) has previously stated, "The Senate should do its part this work period to approve two of these settlements – the Pigford 2 and Cobell settlements. Several agreements were reached earlier this year, but the Senate must act to fully resolve them. …It's often said that justice delayed is justice denied. The time for delay has passed. Now it's time for us to close every last one of these cases, once and for all."
In addition to the support of Senate Majority Leader Reid, Speaker of the House of Representatives Nancy Pelosi (D-CA) said, "I'm committed to finding funding for the Pigford and Cobell settlements. Doing so will finally bring a long-delayed end to an injustice and ensure that victims are fully compensated for past failures of judgment at United States Department of Agriculture and Department of the Interior." The President of the United States also reaffirmed his support for black farmers at a press conference on September 10, 2010 saying, "It is a fair settlement. It is a just settlement. We think it's important for Congress to fund that settlement. We're going to continue to make it a priority."
Presently legislative language for the black farmer settlement exists in four legislative vehicles; two were written by Democrats, and two were written by Republicans.
Senator Max Baucus (D-MT) included language in the "tax extenders" bill (S.3793), and the other is the Lincoln-Hagan-Landrieu black farmers bill, introduced at the press conference by Senator Hagan. Three Republican Senators, Senator Grassley (R-IA), Senator Graham (R-SC), and Senator Barrasso (R-WY) have introduced or co-sponsored legislation (S.3693 and S.3754) to provide funding of the black farmer settlement. Further, Senator Cochran (R-MS), Senator Wicker (R-MS), and Senator Burr (R-NC) have all been on record as supporting the funding of the black farmer settlement.
Boyd said, "…there has been a lot of progress on both the black farmer case and on the Cobell case, I think all that needs to be worked out are the offsets. I need both parties to act in good faith. Senator Reid and Senator Grassley have been so faithful in their efforts, we just need a little bit more – I'm pleading with the Senate to get this done. The families of some of the farmers who passed on spoke yesterday – they've seen the despair with their own eyes . Time is running out for black farmers."
On February 7, 2010 The New York Times editorial told the government to "Pay Up" on the "historic injustice" involving the Black farmers. And on September 3, 2010 The Washington Post editorial said, "The White House and Congress should work diligently" to fund the settlement.
###