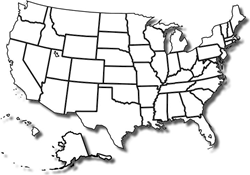 Our Company is now experiencing significant adoption as the standard for U.S. Military and U.S. Government mass notification both here in the United States and abroad across all branches of the military
(PRWEB) September 24, 2010
Washington, DC FCN Technologies today announced that The U.S. Army at Fort Hood has selected the Desktop Alert Enterprise Level Notification Platform for expansion of their alert and recall automation infrastructure. Initially, the notification platform will serve 30,000 personnel with alerting capabilities to all workstations and laptops, e-mail accounts and text messaging requirements to mobile phones/Blackberry's.
Criteria that led to the selection of The Desktop Alert Enterprise Level Mass Notification Platform:
Precedence:
The Desktop Alerting Notification System is currently in use at Fort Rucker, AL, Fort Campbell, KY and the United States Military Academy at West Point, NY, Fort Leavenworth, KS, Fort Leonard Wood, MO, Fort Polk, LA, US Forces in Belgium, Heidelberg, Germany, USSOUTHCOM and over 120 National Guard deployments as well as procurement of this COTS (Commercial-Off-The-Shelf) Department of Defense enterprise-level mass notification platform at Fort Gordon, GA. and numerous other U.S. Department of Defense military installations worldwide.
Certification:
This product has a valid Certificate of Networthiness (CON) and an Authority to Operate (ATO) with USSOUTHCOM.
Merit:
The product meets or exceeds the DOD regulatory guidelines as set forth in the following: SECDEF Memo DTG 18 Aug 2010.
Subject:
Final Recommendations of the Ft. Hood Follow-on Review
Recommendation 4.4: Implement Mass Notification Warning Systems DoDI 6055.17 DoD Installation Emergency Management (IEM) Program DoDI 2000.18 DoD Installation Chemical, Biological, Radiological, Nuclear and High-Yield Explosive Emergency Response Guidelines DoDD 2000.12 DoD Anti-terrorism/Force Protection Program DoDI 2000.16 DoD Anti-terrorism Standards Title 29, Code of Federal Regulations AR 525-27.
The alerts appear as pre-defined or on-the-fly highly intrusive computer screen alerts which force immediate attention to end-users receiving the message with instructions for the action(s) to be taken. A video, audio, image and/or verbal alerts automatically sound/appear over the computer's monitor and speakers. Alerts are delivered across the enterprise in seconds, NOT MINUTES. Latency-based information can be highly dangerous to the mission. Desktop Alerts unrivaled alert delivery speed and low bandwidth technology insures that actionable-intelligence is merely seconds away from end-users. The speed and efficiency of critical notification to end-users ultimately results in the success or failure of the mission. To that end Desktop Alert has proven it's mass notification platform as the fastest Department Of Defense alert delivery system hands-down. Desktop Alert has recently introduced the Desktop Alert EDU™ which is a patent pending alert component for common area alerting. The technology has recently been Certified for usage on Department of Defense Networks in Europe.
At a minimum the alert platform provides:

Rapid deployment across the Fort Hood enterprise in 3 days or less
Will operate on Fort Hoods existing network infrastructure without introduction of new devices to the network
100% interoperability to the U.S. National Guard nationwide alert and recall automation infrastructure and numerous other Department of Defense, DHS and local state government agencies worldwide
Common Alerting Protocol (CAP) Integration which now facilitates mass notification across cooperating military and government agencies worldwide
Integration with social media such as Twitter, Facebook, LinkedIn and MySpace and more
Device independent architecture for integration to future alerting devices and platforms
Instant Messaging integration capability to 40,000,000 instant messenger applications in the US alone
Substantial procurement savings as the maintenance-tail is very low thus insuring indefinite life-cycle usage of the platform
A Desktop Alert ONLY Provision of all source code to the United States Department of Defense
Fort Hood is one of the largest United States military installations in the world, and is the home of III Corps, 1st Cavalry Division, 13th Sustainment Command, First Army Division West, 3rd Armored Cavalry Regiment, 41st Fires Brigade and many other corps and echelons above corps units.
Fort Hood consists of three sections: the main cantonment, West Fort Hood, and North Fort Hood. The main cantonment is bounded by Killeen on the east and Copperas Cove on the west. The Fort Hood main cantonment area, otherwise referred to as Main post, holds its own airfield, Hood Army Airfield. North Fort Hood is bounded by Gatesville to the northwest. West Fort Hood, bounded by Killeen and Copperas Cove, includes Fort Hood's second airfield, Robert Gray Army Airfield, which has been expanded for civilian use (Killeen-Fort Hood Regional Airport (GRK)). To the east and southeast, the reservation is bounded by Harker Heights, Nolanville, Belton, and Morgan's Point Resort.
The Desktop Alert Enterprise Edition Platform will guarantee alerts are served to thousands of personnel and machines with critical content delivery. Desktop Alert is built on the Microsoft .Net Platform. Desktop Alert's open systems architecture will continue to manage the fabric of rapidly evolving alert, notification and response technologies. Desktop Alert integrates with numerous 3rd party vendor technology and the company focus is to 'affordability' integrate with and support customers existing mass notification capabilities such as giant voice, telephony systems, siren systems, public address, intrusion and alarm systems, surveillance systems and more.
"Fort Hood first contacted Desktop Alert in June of 2007. What is especially gratifying about this award is that Fort Hood conducted a thorough evaluation/vetting process of all qualified Enterprise-Level Department of Defense Mass Mass Notification Vendors. This award is a great honor for Desktop Alert to serve The United States Army and the Fort Hood military community. Our company is highly sensitive to the Fort Hood initial report: and subsequent Final Recommendations - SECDEF Memo. This award will serve notice to the entire Department of Defense community that an affordable and fully qualified enterprise level solution is now available on both GSA and NASA SEWP from our company. This selection is substantial for our company and we are proud of our products enterprise level capabilities and past performance reports. The Desktop Alert Enterprise Platform is uniquely qualified to respond to the task at hand and we are highly honored by the selection," said Howard Ryan, CEO and Founder Desktop Alert Inc. "Our Company is now experiencing significant adoption as the standard for U.S. Military and U.S. Government mass notification both here in the United States and abroad across all branches of the military", said Howard Ryan, CEO and Founder of Desktop Alert Inc.
"For Fort Hood the Desktop Alert Total Alert Solution incorporates modern communication devices, and current up-to-date Microsoft Technologies to provide instant delivery of critical notification. This solution provides the Department of Defense with an affordable alternative to the much more expensive offerings from other providers. Desktop Alert has steadily increased market share significantly for nearly 5 years throughout the United States, Europe, IRAQ, SWA and other OCONUS installations. Desktop Alert is emerging as the leader of fully capable and affordable Enterprise Level mass notification technology," said David Zadick, President, Desktop Alert Inc.
About FCN:
FCN Technology Solutions (FCN) is full service solutions provider and a woman-owned, small business serving the Federal Government and surrounding Washington DC Metro area. We provide high quality engineering services, networking services, storage solutions, IT disaster recovery solutions, enterprise application development consultation services and products vital to the operations of the Federal Government. FCN retains best-in-class Systems Engineers, Account Managers, Sales Engineers, Subject Matter Experts and Consulting teams that are certified on the products and services that we provide.
For more information on FCN, please visit http://www.fcnit.com
About Desktop Alert:
Worldwide U.S. Military organizations such as The United States National Guard, The United States Air Force Academy, The United States Military Academy at West Point, Multi-National Forces in IRAQ, The U.S. Air Force, The U.S. Army now utilize the DTA mass notification platform daily for their organizations emergency communication requirements. Desktop Alert can contact thousands of users with desktop alerts and require receipt confirmation of the message. Those not verified can then be listed on a report and/or sent as a "Target Package" to be automatically contacted by other means such as email, SMS, phone calls and other devices.
For more information on Desktop Alert, please visit http://www.desktopalert.net
###