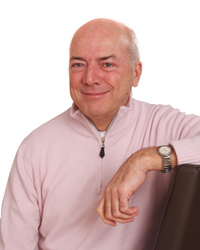 The suffering I have seen in my life is what gave me the passion to find a solution to the inner and outer chaos of myself and others
North Walsham, England (PRWeb UK) September 28, 2010
Mike Robinson is now a number one bestselling author of 'The True Dynamics of Life'. He shares his 35 years of experience along with valuable knowledge in his book which is also co-authored by his partner Jo Le Rose.
According to Robinson, life is difficult because the world is in chaos. 'The True Dynamics of Life' will give an insight about the same; audience will discover their answer to pressing questions like:
What is their real identity?
What the world is all about?
How to find true purpose of life?
'The True Dynamics of Life' would help the readers to recognize and eliminate the self-defeating illusions – some false beliefs rooted in their childhood experiences and the book will reveal the truth behind them. The major concept of 'The True…' is to motivate each and everyone who wants to take control of their life and move ahead for a better existence.
In 'The True Dynamics of Life', Robinson has explained primary traps that tie humanity to the suffering and chaos present in the world today. These traps are based on Robinson's concepts of mind, religion and society and he specifies that most of the world is under the influence of one or more of these traps. By identifying and explaining them, Robinson has encouraged his readers to break free of their influences and live a life free from the trap of suffering and chaos.
"The suffering I have seen in my life is what gave me the passion to find a solution to the inner and outer chaos of myself and others," Robinson says. "I went through a deep reconsideration of my beliefs, judgments and conditioning. I realized that I was living a lie, which has brought me to where I am today and the writing of this book."
The True Dynamics of Life is currently available at Amazon.com,
http://www.mikerobinson.eu.com and other outlets.
Please visit Mike Robinson's official website to know more about Mike Robinson or his book.
###