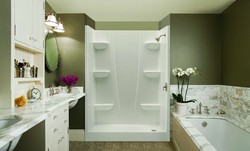 As a high-volume plumbing contractor that installs thousands of showers and tubs a year, I am thrilled that Aquatic now offers an SMC shower system
Anaheim, CA (Vocus) September 16, 2010
Aquatic – the world leader in innovative and inspirational bathware – today introduced A² Composite, a new line of sheet molded compound (SMC) showers and tub-showers that are ideal for both new construction and remodeling projects, particularly those with space constraints and/or when builders and people remodeling prefer later installation.
Formed from the Jan. 2010 merger of Lasco Bathware and Aquatic Whirlpools, Aquatic is the choice of builders for single-family homes, multi-family dwellings (i.e., apartments and condominiums), hotels and resorts, hospitals and health care facilities, college and university dormitories and other large projects. Aquatic's catalog – the most comprehensive in the bathware industry – includes more than 350 showers, tubs and accessories spanning everyday, accessible and luxury product lines.
A four-piece, caulk-free, molded sectional product, the A² Composite shower system is an outstanding option for those seeking a stylish, high gloss, smooth wall design that is extremely durable, lightweight and easy to install quickly. In fact, a single installer can manage the whole process. Despite the shower's lightweight, it is superbly engineered for the long haul and includes a 10-year residential limited warranty.
The new A² Composite products are perfect for remodeling projects where it is difficult, if not impossible, to maneuver through small spaces and/or around tight corners. They also are a smart choice for the builder who prefers to install later in the construction process to help avoid possible damage (nicks, scratches, staining, etc.), which is more likely to occur with earlier installation.
"As a high-volume plumbing contractor that installs thousands of showers and tubs a year, I am thrilled that Aquatic now offers an SMC shower system," said Steve McLaughlin, President and CEO of Charlotte Mechanical, one of the leading plumbing, mechanical and fire sprinkler contractors serving the Southern United States, specializing in new construction, multi-family applications.
"Builders and contractors need molded sectional products that work in a variety of applications, install easily and are aesthetically pleasing to our end-user clients – and we want a choice when it comes to manufacturers. Aquatic's new A² Composite shower system meets all of these needs," said McLaughlin.
Available in a range of sizes, the A² Composite showers and tub-shower also feature:

Patented shower base design with corner weep channels, extended flange and raised front profile for improved water drainage, and a stepped perimeter to aid in finishing
Leak-proof, tongue and groove, right-angled joints
Pre-leveled bases
Multiple integral shelving for storing soap and other items
Left, right and center drain configurations
Low thresholds for easy entry/exit
Slip resistant, textured bottoms
"Our customers were the inspiration for developing the new A² Composite line – it meets an increasingly important need and complements the rest of our extensive product offering," said Gary Anderson, President of Aquatic. "Now builders as well as the weekend 'do-it-yourself' home owner have another great choice for creating beautiful yet practical and long lasting bathrooms at a terrific value."
The A² Composite shower is the latest product innovation from Aquatic since early 2010. In January, the company introduced its groundbreaking Ava Bath, a beautiful tub that enhances any bathroom and enables people with limited mobility to easily enjoy the full benefits of hydrotherapy. Also earlier this year, Aquatic unveiled the Cooper Tub, a high style, minimalist design loaded with practical features and that fits with a wide range of decors.
About Aquatic
Aquatic is the world leader in bathware and shower products. Born from the 2010 merger of Lasco Bathware and Aquatic Whirlpools, Aquatic offers the broadest and most inspiring selection of more than 350 luxury hydrotherapy, everyday and accessible bathing products. Based in Anaheim, California, Aquatic serves distributors, builders, architects, designers and consumers through a nationwide network of state-of-the-art facilities for manufacturing, distribution and support. For more information, visit http://www.aquaticbath.com.
# # #