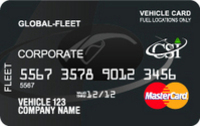 This program is ideal for both the customer and the vendor
Bonita Springs, FL (Vocus) June 24, 2010
CSI Enterprises, Inc., a recognized leader in cost saving and comprehensively controlled financial payment products, announces the CSI Virtual Payment MasterCard® Program created to optimize accounts payable procedures. The program is universally accepted, highly efficient, strongly secure, and system-compatible, resulting in cost savings in a variety of ways.
The CSI Virtual Payment MasterCard Program automates the payment process by generating a unique MasterCard account number for a specific amount for each vendor payable. No more checks need to be issued.
"This program is ideal for both the customer and the vendor," explains Keith Stone, CSI President/CEO. "Both enjoy cost savings with efficiency and security which result in increased productivity. Optimizing business practices not only gives one a competitive edge, but helps one become an industry leader."
A business gets started by submitting a Payables Disbursement File to CSI. The CSI Enrollment Team assists by contacting each vendor, introducing the program and the benefits for participating, and then acquiring the necessary information for enrollment. The vendors are paid with the Virtual MasterCard® card based upon pre-defined date, time and amount. CSI then prepares a single invoice containing all vendor-processed transactions. Online reporting provides immediate information.
For vendors, the CSI Virtual Payment MasterCard Program offers control, security, and accelerated cash flow. No more waiting for a check. Vendors initiate the payment as they would any other credit card transaction with funds typically posting within 24-48 hours, eliminating delays, collection costs and disputes.
A simple, safe, and secure alternative payment method to traditional check disbursements, the CSI Virtual Payment MasterCard reduces the cost of manual check processing. To apply for and learn more about the CSI Fleet Fuel MasterCard and the CSI Virtual Payment MasterCard Program, visit http://www.csi-businessmastercard.com.
About CSI Enterprises, Inc
CSI Enterprises, Inc. provides a specific line of controlled financial payment products including business fleet fueling/maintenance payment cards, a corporate virtual payment MasterCard® card and card solutions for corporate purchasing, travel and entertainment spending. Today CSI and its products operate in all fifty states including Canada, Mexico and the Caribbean, with operating subsidiaries involved in municipal tax reclamation, venture capital and real estate development activities nationwide. Since 1988, CSI Enterprises, Inc. was the first and largest U.S. organization to have a successful corporate asset management and payment network throughout the U.S. and Latin America. CSI MasterCard Corporate Fleet Card and Virtual Payment MasterCard are issued by Regions® Bank, pursuant to a license by MasterCard International Incorporated. MasterCard is a registered trademark of MasterCard International Incorporated.
# # #