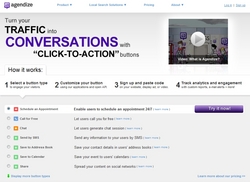 "I am really pleased to announce that Agendize's complete suite of "Click-to-Action" buttons will now be available to anyone -- ranging from a small business owner to the most savvy interactive marketing agency -- who wants to improve on conversion rates
New York, NY (PRWEB) November 2, 2010
Agendize Inc., the provider of the most complete suite of "Click-to-Action" features to help online advertisers convert traffic into online and offline conversations is radically changing the way "Click-to-Action" buttons are being deployed on websites, emails, banner ads, and videos.
Businesses optimize their websites and online marketing campaigns for search, trying to get as many customers as possible to their "front door" online. Today, the real challenge is all about how to improve the performance of this traffic rather than getting more of it. Key findings prove that "Click-to-Action" add-ons are amongst the most impactful conversion enhancers, helping advertisers to engage in conversation quickly and more often with prospects and customers, translating into more business from their online presence and advertising campaigns. Given the current landscape, getting a full suite of these tools implies signing multiple costly contracts with multiple vendors, deploying multiple solutions, dealing with constraining minimum monthly commitments as well as complex data integration for reporting purposes. Agendize's new self-serve resolves these business and operational challenges.
"I am really pleased to announce that Agendize's complete suite of "Click-to-Action" buttons will now be available to anyone -- ranging from a small business owner to the most savvy interactive marketing agency -- who wants to improve on conversion rates by offering more options to users in the simplest way possible. Moreover, Agendize's fully integrated and unified reporting will give them more robust data to understand what online advertising activity works best in driving higher conversion rates. Agendize's infrastructure is built to deliver simplicity, scalability and security. Our new self-serve website is an enabler in that sense, and a game changer," said Alex Rambaud, CEO & founder of Agendize.
Agencies, Publishers and Advertisers can deploy the most comprehensive suite of "Click-to-Action" buttons with a simple three step process – create, customize and deploy- by simply pasting a short line of code into any website, emailing, banner ad, video, social and business profile page. Agendize's fully integrated white-label reporting console provides detailed analytics on engagement actions - calls, appointments, chats, etc.- with the possibility of linking to keywords and website data to prove campaign efficiency, while greatly improving the "Trusted Advisor" relationship with advertisers.
To offer the simplest pricing model possible, Agendize's self-serve pricing is based on a "Pay-per-Action" model with no contract or minimum spend commitment. This ensures that the cost is totally in sync with the success of a campaign, reducing the financial risk to 0. No actions, no conversations, no cost. Each individual feature, from Click-to-Call, Click-to-Chat, Click-to-Schedule an Appointment, Click-to-Save, Click-to-Share, etc., can be deployed on-demand with a specific low cost-per-action for each one, optionally limited by a daily budget cap determined by each client. Billing begins when the action begins and stops when the actions stops.
What does this mean for the industry? Engagement between users and merchants is now well entrenched in the industry's practices with the advent of reviews, social networks and reputation management solutions. Engagement tools such as Click-to-Call and Online Scheduling offer some of the best proof that true engagement is happening. Simplifying the way the entire breadth of engagement tools gets deployed and pricing the tool per use are game changers. Interactive marketers and any other type of web industry players can now go deeper into proving ROI and strengthening their relationship with their clients.
"I'm looking forward to any business being able to easily add and customize features that were previously only available to big businesses to their sites and campaigns. I'm really excited about the possibilities that our API will create. Developers will be able to build web or mobile applications that make use of our tools and mix and match them in ways we would have never even thought of," said Matt Fogel, VP Product at Agendize.
About Agendize
Agendize is a self-serve platform especially designed to help any advertisers and interactive agencies convert traffic into online and offline conversations by simply inserting user engagement features on a website, display ad, video, mobile, social page, email or business profile page. Agendize's SaaS platform provides fully detailed reporting on all actions taken with each engagement button.
Today, 30 of the world's leading local advertising publishers, large companies in the insurance and telecommunications industries and an increasing number of interactive marketing agencies have relied on the Agendize platform, providing "Click-to-Action" buttons to 2 million businesses in 25 countries.
For additional information on the Agendize self-serve platform, contact Matt Fogel, VP Product (Phone: 514-289-2123 - Email: matt(at)agendize(dot)com) or visit http://www.agendize.com.
###