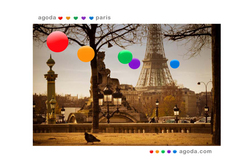 Singapore (Vocus) September 1, 2010 –
Agoda, Asia's global hotel booking site and part of Nasdaq-listed Pricelince.com, today announces special hotel rates for travelers headed to France for the Festival d'Automne à Paris.
Festival d'Automne à Paris – the Paris Autumn Festival – takes place from September 9 to December 31. The festival, inaugurated in 1972 by Michel Guy, who would become France's Minister of Culture, is an annual event that showcases contemporary opera, theater, dance, film, literature, poetry and visual arts.
The Paris Autumn Festival is unique in that it promotes artistic experimentation, with a specific focus on foreign-language, non-Western creative works. The season-long program invites fresh material from ground-breaking new artists and performers from around the world, plus commissioned works from established production companies.
This 39th edition of the Paris Autumn Festival promises to offer a broad and eclectic range of performances to enrich and educate visitors. This year's program features everything from traditional Indian 'baithak' concerts to contemporary reproductions of Hamlet, with tickets priced from €8- €36 (USD10 - USD46). Performances take place in various iconic locations across Paris, including the Centre Pompidou, the Paris Opera and the Opera Bastille.
Highlights from the 2010 program include short plays on contemporary Japanese society by Toshiki Okada, a free interpretation of Bizet's The Tragedy of Carmen by Peter Brook and several dance recitals by the acclaimed Merce Cunningham Dance Company. To find out more about the festival, or to view the schedule, visit festival-automne.com.
Agoda has secured special rates for Paris hotels for the Festival d'Automne, with a hotel promotion to suit every budget.
Hotel du Prince Eugene – 2 Stars
Normal rate USD 139. Agoda rates from USD 118. Book at least 3 nights are enjoy 15% discount. Valid until October 31 2010.
Bastille Charonne Hotel – 2 Stars
Normal rate USD 153. Agoda rates from USD 137. Book any room and enjoy 10% discount. Valid until October 31 2010.
Paris Est Lafayette Hotel – 3 Stars
Early Bird Special! Normal rate USD 178. Agoda rates from USD 161. Book a Double Room or Triple Room at least 30 days in advance and enjoy 10% discount. Valid until December 30 2010.
Beauchamps Hotel – 4 stars
Save 20% Normal rate USD 365. Agoda rates from USD 312. Valid for all room types.
Millennium Opera – 4 stars
Normal rate USD 300. Agoda rates from USD 239. Book minimum 3 nights and enjoy 20% discount. Valid for all room types.
Victoria Palace – 4 stars
Last-minute deal! Normal rate USD 415. Agoda rates from USD 323. Book within 5 days of arrival and enjoy 22% discount. Valid from September 1 – December 30 2010.
Le Burgundy – 5 stars
Hot deal! Normal rate USD 573. Agoda rates from USD 520 for Standard Room, Deluxe Room and Junior Suite.
For more information about Agoda, please send an email to PR(at)agoda(dot)com.
About Agoda Company Pte Ltd:
Agoda Company Pte Ltd (http://www.agoda.com) is a leading Asia-based, online hotel reservations company, which specializes in securing the lowest discount hotel prices. Agoda.com is part of Priceline.com (Nasdaq:PCLN). Agoda's network includes over 8,000 hotels in Asia-Pacific and more than 130,000 worldwide. The multinational staff of 450 professionals, located throughout the world, provides a first-rate reservation service that uniquely combines local knowledge and local connections to provide the best hotel deals to both business and leisure travelers.
In addition, Agoda customers participate in the Agoda Rewards Program, earning further discounts and free stays. Unlike programs that limit travelers to a single chain, the Agoda Rewards Program allows customers to redeem Rewards Points at thousands of hotels around the globe, at any time. A member of the Pacific Asia Travel Association (PATA), Agoda's aim is to promote travel by making it more affordable and more accessible to more people.
# # #