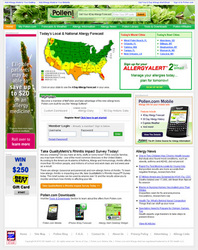 We're pleased to be able to provide an easy way for allergy sufferers to keep track of their symptoms so they can more effectively manage their condition.
Plymouth Meeting, PA (Vocus) February 19, 2010
Pollen.com, the most visited allergy site on the Web, today announced new features that will provide customized allergy information to its users. These enhancements include MyPollen, a customizable dashboard that automatically provides users with allergy information based on their geographic area, and the Pollen Diary, which allows users to keep track of their allergy symptoms.
The MyPollen dashboard gives registered site users ZIP-code-specific information that includes:

the Allergy Alert 4-day forecast
the top 3 pollens in the area with pictures and links to more information on Pollen.library.com
the current day's weather forecast
30-day and 90-day historic pollen counts
"With spring approaching, we wanted to provide Pollen.com users with more custom, relevant information so they can be more informed about their allergies. MyPollen provides them with pollen information specific to their area, at a glance, so they can anticipate their allergy symptoms and plan their days ahead," said Glenn Connery, associate director of the Application Development Group at SDI, the company behind Pollen.com.
To further enhance Pollen.com, SDI developers created the Pollen Diary, which will be available in March. The Pollen Diary aids allergy sufferers by providing an easy-to-use calendar format for them to enter daily information about their allergies and symptoms. The information is kept private, and users can easily return to past days to view their diary entries. The diary also provides monthly progress charts that will allow users to monitor their allergy levels in past months and years, and 12 months of allergy-level averages.
"Allergies change constantly and need to be monitored on a regular basis," said Connery. "We're pleased to be able to provide an easy way for allergy sufferers to keep track of their symptoms so they can more effectively manage their condition."
Other recent Pollen.com enhancements include:
A new Tools and Downloads section, making it easier to find information about Pollen.com's 2-Day Allergy Alert E-mail, Desktop Allergy Alert Widgets, Allergy Alert iPhone & iPod Touch Application, and Mobile Web application
An updated Allergy Alert iPhone & iPod Touch Application
A new Forecasts and Weather section, grouping together the site's popular forecasting features, such as the 4-Day Allergy Forecast, Two-City Comparison, Pollen History, and detailed weather forecast
About Pollen.com
http://www.Pollen.com, a division of SDI, has been supplying important information to millions of people with allergic conditions for more than 10 years. With reliable, up-to-the-minute allergy forecasts that show upcoming local airborne allergen conditions, along with the weather forecast, Pollen.com prepares allergy sufferers for the day by offering all the facts – at a glance. Among its free services, Pollen.com offers charts of current and predicted pollen levels, pollen histories, e-mail alerts, and educational materials on how to manage seasonal allergies.
About SDI
SDI is a leading healthcare market insight and analytics firm. It provides the industry's most comprehensive de-identified patient-level data to pharmaceutical, biotech, and medical device companies, enabling them to better understand the healthcare market. SDI also serves the government and the financial services, media, and consumer packaged goods industries. Founded in 1982, SDI counts the world's top 50 pharmaceutical and biotech firms as its clients.
###