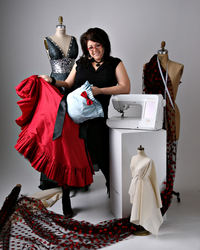 Show Your Support Bra Challenge
Novi, MI (Vocus) September 14, 2010
Crafters will find inspiration, creativity and education for sewing, quilting, home décor, or needle and fiber arts at the 17th annual American Sewing Expo at the Rock Financial Showplace in Novi Friday, Sept. 24 through Sunday, Sept. 26.
"Beginner and veteran enthusiasts will find techniques and creative tips at over 300 fashion style shows, hands-on workshops, classes and demonstrations," said Janet Pray, show producer of the largest independent consumer sewing show in the country. "It's the place to go to purchase one of a kind fabrics and supplies at over 300 vendor booths, enjoy reality sewing competitions up close and enter several contests."
Experts include Kenneth D. King, professor of the haute couture program at NewYork's Fashion Institute of Technology and sewing expert on PBS-TV series "Sewing Today," will teach couture techniques and leather sewing classes; and New York fashion designer Koos van den Akker, featured designer for Vogue pattern and designer for Bill Cosby, Cher and Madonna, will reveal how to use garments as a canvas for unusual collaborations of color and creative collage techniques. Other industry professionals will conduct educational presentations at over 160 lectures, hands-on classes, seminars and all-day workshops in addition to the over 60 presentations at the free show floor demonstration stages.
Reality television competitions are the inspiration for the Passion for Fashion Sewing Challenge that starts as the show opens when 12 finalists design and sew garments for judging and a fashion show (similar to Lifetime's Project Runway and Bravo's The Fashion Show). Joi Mahon, 2009 winner, will teach fashion draping and sketching and how to make a bubble skirt and display her one of a kind, off beat, non-traditional bridal gown collection and all occasion designs.
Attendees can learn unique tips and techniques as they make their own sewing project to take home at the Sew Experience Café and decorate their own jeans with machine embroidery or reprocess them into different projects at the Re-Construction Zone.
Embroidery Extravaganza Fashion Show sponsored by Creative Machine Embroidery magazine will feature garments from several of the top sewing machine companies. Simplicity Pattern Company will host a fashion show featuring their styles. PatternReview.com will conduct a Natural Fiber Fashion Show and contest.
The Innovation Generation Fashion Show Competition will be held on Saturday for 8 to 18 year olds who know the sewing process and have made their own garments. Entries are prejudged and then worn by the contestants on the Expo Fashion Stage.
Over 125 exhibitors from 35 states, Australia and Canada will be displaying fabrics, sewing machines, notions, threads, patterns, yarn, sergers, technology, embellishments, kits, gadgets, embroidery designs, tools and other products. Showgoers can participate with quick Make and Take projects at some vendor exhibits. Several special exhibits will display art quilts, couture collections, fiber art and fashion designs.
The "Show Your Support Bra Challenge" sponsored by Coats & Clark and benefiting Barbara Ann Karmanos Cancer Institute will display bedecked fun, serious, themed or abstract bras completely decorated inside and out using thread in some form. The 'Yes, I Made This!' pin purchased by attendees to show off their sewing project benefits the Dress for Success charity.
"Show visitors can test-drive sewing machines, attend a seminar or watch a demo to get creative tips, discover fresh possibilities and be inspired for new projects," said Pray. "Sew' many possibilities to learn new crafts, brush up on techniques and find out how the experts do it at this year's show."
Rock Financial Showplace is located at 46100 Grand River Avenue between Novi and Beck Road in Novi, Michigan. Show hours are 9 a.m. - 6 p.m. Friday; 9 a.m. – 6 p.m. Saturday and 9 a.m. - 5 p.m. Sunday. Preshow workshops are 9 a.m. - 5 p.m., Wednesday, Sept. 22 and Thursday, Sept. 23. Expo admission is $14 and children 16 and under are admitted free with a paying adult. One-hour seminars are $14, all-day workshops are $98 to $148 and special combination packages are available. Onsite parking is available for $5. Social networkers can become a fan on Facebook at http://www.facebook.com/AmericanSewingExpo. For more information, visit http://www.AmericanSewingExpo.com or call (248) 889-3111.
###