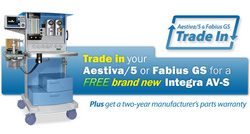 Aestiva/5 & Fabius GS Trade In
Louisville, Ky. (Vocus) April 8, 2010
DRE, Inc., a premier surgical and medical equipment supplier, is offering free, brand new DRE Integra AV-S anesthesia machines to medical facilities that trade in their used Datex-Ohmeda Aestiva/5 or Dräger Fabius GS anesthesia machines.
The "Aestiva/5 & Fabius GS Trade In" presents a tremendous opportunity for hospitals and surgery centers looking to upgrade their entire anesthesia fleet for the lowest possible price, says Justin Jeffries, DRE's Chief Operating Officer.
"Now is the best time to replace your Aestiva/5 or Fabius GS with a brand new DRE Integra AV-S," says Jeffries. "You can get a fully-featured Integra AV-S at no additional capital investment, simply by trading in your aging Aestiva/5 of Fabius GS. It's an even one-for-one exchange, and you'll have a new, fully-featured anesthesia machine backed by a continued commitment to not discontinue service or parts."
The high performance DRE Integra AV-S provides a low cost of ownership. It requires only two preventative maintenance visits per year and offers reduced software upgrade fees that can save money for owners throughout the life of the machine. The DRE Integra AV-S also features integrated, non-consumable spirometry that can cut annual service fees by as much as $720 per year.
"And by trading in your used Aestiva/5 and Fabius GS machines for a new DRE Integra AV-S, you can standardize upgrades and service requirements for your entire anesthesia fleet. You'll never be surprised by cross-platform issues again," says Jeffries.
The DRE Integra AV-S comes standard with an integrated, advanced touchscreen ventilator that features six ventilation modes, including SIMV, SMMV and PSV. The AV-S ventilator has a simple layout that helps users make quick decisions on the fly, and its touchscreen can be configured to display two waveforms, including a compliance loop not available on many competing ventilators.
The DRE Integra AV-S provides:

Balanced ultra-low flow anesthesia delivery
Increased patient safety with a mechanical anti-hypoxic device
Modular construction with durable components — more aluminum, less plastic
Standard with three gases — O2, N2O and air
Open architecture that provides ample space for monitors and accessories
Autoclavable, integrated A200SP absorber
Sigma Delta vaporizers that are service-free for as many as 10 years, saving money for hospitals and surgery centers
Hospitals and surgery centers interested in trading their used Dräger Fabius GS and GE Aestiva/5 anesthesia machines for brand new, free DRE Integra AV-S anesthesia machines can learn more by visiting dremed.com. Once there, they can browse DRE's complete selection of new and professionally refurbished medical equipment, which includes the Colin BP-S510 Patient Monitor, DRE Millennium 5 Patient Stretcher and DRE Maxx Luxx 3 Surgery Lighting System.
About DRE, Inc.
DRE is a premier medical and operating room equipment supplier. DRE provides a combination of new and professionally refurbished or used medical equipment to industry professionals around the globe. For the third consecutive year, Business First of Louisville has named DRE one of the 50 fastest growing businesses in the Greater Louisville area.
###