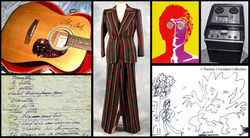 Tom's rich collection spans the decades and represents popular music icons that cross generations. His artifacts are steeped in content and are great catalysts for intergenerational sharing
Boca Raton, FL (PRWEB) May 27, 2010
The Thomas J. Fontaine Collection of Popular Culture opens its vault of rock and roll, rare music, film and television artifacts for loan to museums worldwide. Organized by ArtVision Exhibitions, LLC of Boca Raton, Florida, the collection spans 70 years, and holds several thousand artifacts including handwritten lyrics, illustrations, vintage posters, street and concert apparel, jewelry, furniture, film scripts, unpublished photographic negatives, private documents, guitars, musical instruments, gold records and rare signatures, all of which have never before been exhibited.
Thomas J. Fontaine, private collector and popular culture historian began collecting when he was only 6 years old. Fontaine is a recipient of the prestigious Autograph Collector of The Year award by UACC (2004) and considered one of the world's foremost collectors of rock and roll memorabilia. "Thomas Fontaine's collection and his entertaining stories of the early rock and roll era and popular culture will surely captivate the attention of museum visitors of all ages," said Joe Johnson, host of the nationally syndicated Beatle Brunch radio show.
Never has a private collection of this magnitude been organized for institutional touring. Museums have the option of selecting specific, individual objects for exhibition in conjunction with their permanent collections, or utilizing the entire collection to interpret a powerful, one-of-a-kind exhibition and lasting visitor experience. "Tom's rich collection spans the decades and represents popular music icons that cross generations. His artifacts are steeped in content and are great catalysts for intergenerational sharing," said Sheila Riley, Director of Collections, The Children's Museum of Indianapolis where several artifacts will go on view in conjunction with the museum's Rock Stars, Cars & Guitars exhibition.
"One artifact in particular that holds a special place in my heart is an Ampex audio tape recorder that was used by Sam Phillips at Sun Records to record Elvis Presley, Johnny Cash, Roy Orbison, Carl Perkins and Jerry Lee Lewis. The decision to make the collection available mirrors the public's desire to revisit the roots of popular culture as in Broadway's newest musical, Million Dollar Quartet," said Thomas Fontaine.
Intriguing artifacts in the Collection include:

John Lennon's personal writing desk, chair, signed guitar strap and hand-drawn illustrations
Original, handwritten lyrics by the Beatles' accompanied by their personal street and performance apparel
Richard Avedon's original psychedelic posters of the Beatles
Elvis Presley's Kissin Cousins jacket; signed W-4 form; brown suede gun holster; personal jewelry
Elton John's flamboyant wardrobe including street and performance apparel and accessories accompanied by a special performance (signed) piano
Johnny Cash's concert harmonica, acoustic guitar, and handwritten lyrics for "One Piece at a Time", "I'm a Worried Man", "Godzilla", "I Like Country Music", "Tears in the Holston River"
Buddy Holly's handwritten lyric for the unpublished song "Monetta" accompanied by Holly's personal and performance wardrobe
Ritchie Valen's signed performance contracts and personal items
The Big Bopper's handwritten letters and sheet music for "Big Bopper's Wedding"
Jim Morrison's signed W-4 for American Bandstand accompanied by a rare signed Doors LP
Over 150 items relating to Sharon Tate such as Tate's personal clothing, jewelry, career documents and her working script for The Wrecking Crew starring Dean Martin, Elke Sommer
Various signatures and artifacts by the Beatles, The Monkees, The Beach Boys, Jimi Hendrix, Janis Joplin, ABBA, The Carpenters; film and television productions such as Gone With the Wind, Valley of the Dolls, Wizard of Oz, Batman, Star Trek; actors James Dean, Natalie Wood, Alfred Hitchcock, Elizabeth Taylor, Jimmy Stewart, Lawrence Olivier, Marilyn Monroe, Sydney Poitier, Dean Martin, Annette Funicello, and the list goes on.
"Equally as intriguing as the artifacts themselves are the handwritten, private letters and accompanying documents that form a 'tell all, behind-the-scenes chronicle" of the artifacts. The result is an amazing visitor experience," said Victoria Ann Rehberg, president of ArtVision Exhibitions, LLC. "The interpretation possibilities are endless and we're currently seeking a publisher for an accompanying book to further extend the visitor's experience."
ArtVision Exhibitions, LLC is a full-service marketing company, providing traveling exhibitions to fine art museums and distinguished venues worldwide. Creating cultural collaborations between art, business, and technology; ArtVision integrates comprehensive packaged exhibitions, educational components, entertainment, special events and historic image licensing. Their goal is to develop and market exhibitions with substance and drama—popular exhibitions that shed light on the historical, artistic and societal influences that shape the common culture, no matter what the era.
For a complete guide to the Thomas J. Fontaine Collection, please contact Victoria Ann Rehberg, (561) 883-2145.
# # #