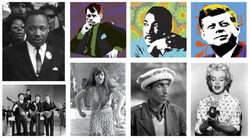 Our goal is to develop exhibitions with substance and drama—important exhibitions that shed light on the historical, artistic and societal influences that shape the common culture, no matter what the era.
Boca Raton, FL (PRWEB) June 30, 2010
In an age when cultural institutions are cutting staff and worrying about the bottom line more than ever, the niche that ArtVision Exhibitions has carved out for itself is becoming a booming business. Founded 10 years ago by Victoria Ann Rehberg, ArtVision acts as a matchmaker between historic collections and museums and cultural institutions. With over 100 museum and institution loans from Coventry Cathedral to the Smithsonian, demand for ArtVision's exhibitions has never been greater.
"The internet has radically altered the way museum directors plan their programming. With ArtVision, they are one click away from a treasure trove of ideas. They can search images from the greatest photographers of our time who captured pivotal moments in history such as the Beatles appearance on The Ed Sullivan Show; an insider's look at political leaders and their families; images surrounding Dr. Martin Luther King's I Have A Dream speech and more."
Rehberg said, "We develop and market important exhibitions with substance and drama - audience-pleasing exhibitions that shed a vibrant light on historical, artistic and societal influences that shape our culture. They entertain and educate, while provoking critical thinking for museum visitors of all ages."
The mission of ArtVision Exhibitions is to create cultural collaborations between history and art. Each exhibition is curated as a complete package including outreach and educational components, entertainment, and special events.
Exhibits coming to a museum near you include:
Afghanistan: Images from an Era of Peace, courtesy of photographer Joseph Hoyt, is currently on view at Coventry Cathedral, United Kingdom, and offers visitors a glimpse into the fascinating history of the once peaceful Afghanistan--its people, landscapes and ancient ruins, a poor but culturally and historically rich nation, a land that was once a meeting point of cultures and a link between east and west.
Bobby, Martin & John: Once Upon an American Dream, opens July 3 at the Southern Vermont Arts Center, Manchester, VT, and features the work of famed photojournalist Stanley Tretick who covered both Robert and John F. Kennedy's presidential campaigns as well as The March on Washington for Jobs and Freedom where Dr. Martin Luther King, Jr. delivered his "I Have a Dream" speech.
Elvis: Grace and Grit, which opens July 16 at the STAX Museum, Memphis, TN, examines a young and feisty, talented and sexy, Elvis Presley who revolutionized pop music in the early sixties and whose trailblazing renditions of blacks-only blues with rock shot him to the top of the charts and into the libidos of America's teenage girls.
Chihuahua: The Land of Ancient Wonders, courtesy of artist-author Bill Williams, opens September 15 at the University of Texas at El Paso, and highlights the unique beauty and rich history of Mexico's largest state which hosts a myriad of hidden treasures--cathedrals, missions, historic haciendas, the Mennonites, lakes, rivers, desert, and fascinating ruins of the vanished Paquime Indian culture.
Give Peace a Chance: John Lennon and Yoko Ono's Bed-in for Peace, courtesy of historian-author Joan E. Athey, opens October 9 at the Lake County Discovery Museum, Wauconda, IL and offers visitors the chance to sit on the edge of the historic 1969 Bed-In, Suite 1742 at the Queen Elizabeth Hotel in Montreal where John Lennon and Yoko Ono used their bed as the vehicle for peaceful protest--putting themselves and their message in the center of a searing spotlight, demonstrating through their vulnerability and openness their unrelenting support for their beliefs. No celebrity couple had ever used their bed as a place of protest, nor had anyone before been so available in person and by telephone to the world.
AMERICA Through the CBS Eye, courtesy of the CBS television archives, opens 2011 at the new Washakie Museum, Worland, WY and shines a mirror to our collective memory of our nation's cultural and political history through the names and faces that have helped shape who we are, and who we'll be, personalities and events that should not be lost in the amnesia of our culture.
A Revolution That Shaped a Generation, courtesy of former Rolling Stone magazine photographer Robert Altman, recently on loan to The Museum at Bethel Woods is a larger than life affectionate look back at the colorful flower power generation, portrays the youth revolution in full swing and showcases the writers, rock gods, folk musicians, movie stars and the spiritual and political leaders that made it all happen.
The Beatles: Backstage and Behind the Scenes, courtesy of photojournalist Bill Eppridge and the CBS television archives recently on loan to The Manitoba Museum, Canada presents the best of photojournalism magnifying a condensed 1964 time frame as the Fab Four won new North American audiences and revolutionized rock music at an unprecedented pace.
Coming Soon:
Lyrics to Legends explores the innovative role of musical lyrics as the conduit for creating culture--music icons, film stars, architecture, transportation, fashion, economic development, and societal influences (theatrical and film productions, fan clubs, collectors). Drawing upon several thousand popular culture artifacts courtesy of the Thomas J. Fontaine Collection, this exhibition contains original, hand-written lyrics, private documents, film scripts, musical instruments, apparel, and photographs as the basis for intergenerational programming.
###