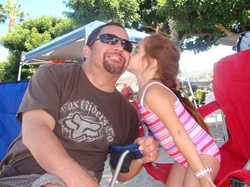 AskDads.com is the only site of it's kind I've experienced. I've seen married, single, teen, step and all other types of dads interacting like they have known each other for a long time. Richard King - Dad of three.
Murrieta, CA (PRWEB) April 8, 2010
http://AskDads.com, the Internet's only social networking site exclusively for Dads, announces their official website launch. They have recently succeeded in creating a fully interactive website that allows the user to create their own "facebook" type profile.
AskDads.com allows their users to create a free profile with photos, videos, music as well as to create or join a blog, forum and group. The site has RSS feeds with articles dedicated to Dads as well as sports feeds and online games. The members can even sign on to the website with their Twitter credentials. James Willbanks, the creator of AskDads.com is a happily married dad of three. He has a daughter from a previous marriage who lives with him and had endured many years of family court drama before both sets of parents finally reached a common ground. His experience in parenting reaches many levels and has been the inspiration for the website.
While there is an endless supply of websites dedicated to moms, now the Dad's of our world finally have their own place to go and connect with other Dad's. This site is truly a place for Dad's to share or learn about the ups and downs of raising children whether those children are brand new or all grown up and everywhere in between.
About AskDads.com:
AskDads.com is the web's premier and first social networking site exclusively for Dad's, launched in April 2010.
For additional information on the news that is the subject of this release
Contact:
James Willbanks
AskDads.com
951-514-0409
http://www.AskDads.com
###