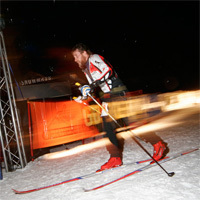 Please show your support at this Aspen charity race and support these needy causes, it a great event!
Aspen, Colo. (PRWEB) September 25, 2010
The Chris Klug Foundation is excited to announce that registration for the 5th Annual Aspen Summit for Life 2010 weekend of events is now OPEN. Taking place December 10th and 11th, 2010 in Aspen, Colorado, this fun weekend of activities is centered around a nighttime uphill race on Aspen Mountain to promote organ donation awareness and to help raise funds to support the Chris Klug Foundation's mission of eliminating the wait for over 100,000 Americans waiting for life-saving organ transplants.
Kahtoola, a snow-travel-system company, is once again on-board by awarding Micro Spikes to the first 60 people that register for the race, so log on to http://www.SummitforLife.org and REGISTER TODAY.
There are some exciting new additions to highlight for 2010, including a newly redesigned Summit for Life website, which will make registering for any of the weekend's activities easier. In addition to a simpler and more dynamic website, we've added some new registration options. Raising pledges is no longer exclusive to racers! Now, when you register for "Ride for Life" or make a donation under "Snowed In" you can also elect to raise pledges to help support a great cause. Special prizes will be awarded to top fundraisers in each of these new categories.
CALENDAR OF EVENTS
Annual Wine and Dine for Life
December 10th from 6:30 pm – 9:30 pm
$250 per person, of which $200 is tax-deductible
The action-packed weekend begins with Pacifica Seafood and Raw Bar hosting the 4th Annual Wine & Dine for Life dinner, an elegant wine pairings dinner with Chris Klug and friends, including some stars from the transplant community.
Party for Life
December 10th starting at 10 pm
$50 per person, of which $30 is tax-deductible
For the second year in a row, and immediately following the Wine & Dine for Life dinner, Pacifica Seafood and Raw Bar will transform into Party for Life, an after party with music, snacks and drinks. Both events are open to the public, and everyone is encouraged to register early, as they will sell out.
5th Annual Aspen Summit for Life Uphill - Our Signature Event
December 11th - 5:15 pm Recreational Start Time & 6 pm Competitive Start Time.
The cost is $40 on or before December 10th and $50 day of registration fee per person and a commitment to raise additional pledges. The weekend's main event-- a night time race from the base to the Sundeck at the summit of Aspen Mountain – 3,267 vertical feet over 2.5 miles to celebrate life-saving organ donation and help raise funds for the Chris Klug Foundation. Racers can use their preferred choice of lighting and non-motorized equipment – snowshoes, skins and other creative means. Supporters can also partake in the party on top of Aspen Mountain by signing up to Ride for Life and take the gondola to the top. Tickets to the party cost $60 for adults, $35 for children. Children three years old and under ride for free. A portion of each ticket is tax deductible. When racers and supporters reach the summit, there will be dinner prepared by The Little Nell, dessert by Paradise Bakery, refreshments, a live musical performance by Jason Perrin and James Benvenuto of JAMESON and an awards party and raffle. Perrin and Benvenuto have been gracious in donating their time to perform a great show that is sure to get everyone on the dance floor. The top fundraisers and top racers will receive great prizes.
To donate to the cause or learn more about Aspen Summit for Life 2010 visit: http://www.SummitForLife.org or contact Holly at (970) 274.0832 or at Holly(dot)Upper(at)gmail(dot)com.
Summit for Life and all its supporters enable the Chris Klug Foundation to focus on the mission of promoting life-saving organ donation and improving the quality of life for donors, donor families, organ transplant candidates and recipients. Current Summit for Life Partners include: Aspen Square Hotel, Pacifica Seafood & Raw Bar, The Anschutz Foundation, Williams Energy, American Transplant Foundation, KUUR Your Radio, Kahtoola, Grassroots Community TV, Aspen Public Radio, Paradise Bakery & Café, Ink! Coffee, Aspen Valley Hospital, Aspen Club & Spa, J.Crew on-the-mountain, Larabar, AspenSpin.com, Community Banks of Colorado, Bolle, and University of Colorado Medical Campus, JAMESON. Hosted in conjunction with the Aspen Skiing Company.
About CKF:
The Chris Klug Foundation (CKF) is a nationally recognized 501(c)(3) nonprofit organization located in Aspen, Colorado. Founded in 2004 by liver transplant recipient and Olympic snowboarder Chris Klug, CKF is dedicated to promoting lifesaving donation and improving the quality of life for donors, donor families, organ transplant candidates and recipients.
Through its grassroots initiative, Donor Dudes, CKF is also working with young people around the world--providing donor awareness materials and information for Donor Dudes chapters on high schools and college campuses nationwide. People everywhere are touched by organ donation and transplantation, and it is our mission to help spread the word in a fun way.
For more information about organ donation and the support available surrounding our cause, please visit us at http://www.chrisklugfoundation.org
# # #