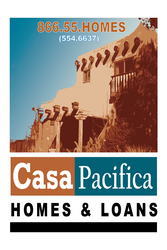 This site was developed with my community in mind
Los Angeles, CA (Vocus) July 13, 2010
Local real estate agent and community advocate, Laura Hall, Broker of Casa Pacifica Homes, today announced the creation of a new information Web site for Los Angeles-area homeowners in distress. HollywoodHillsAvoidForeclosure.com contains vital facts about the options available to these homeowners, to help them make the educated decisions about their future.
"This site was developed with my community in mind," Hall said. "When faced with the possibility of foreclosure, I've seen too many homeowners make poor choices, even walking away from their homes without calling their lender or a real estate agent. These people didn't know the options available, or even how to find any information on their situation."
"I want more for the people of Los Angeles, and more comes with making informed decisions. There are answers and up-to-date information on the site for people who just need some clarity."
HollywoodHillsAvoidForeclosure.com acts as a hub for information on the facts and issues for struggling homeowners, putting all the necessary information in one, easy-to-use location. The information and materials located on the site are regularly updated to reflect market changes, trends, new lender requirements, and industry updates. The site contains a brief video and a brochure explaining the Obama Administration's Home Affordable Foreclosure Alternatives (HAFA) program.
Million-Dollar Borrowers Defaulting
More than 14 percent — one in seven — borrowers with mortgages greater than $1 million have stopped paying them. Slightly more than 8 percent of mortgages of less than $1 million are delinquent, according to real estate analytics firm CoreLogic.
"The rich are different: They are more ruthless," says Sam Khater, CoreLogic's senior economist.
CoreLogic points out that the wealthy don't seem to be particularly worried about the concerns of lesser earners like being sued by their lender or prevented from getting a mortgage in the future. Source: The New York Times, David Streitfeld (07/08/2010)
Alex Charfen, co-founder and CEO of the Distressed Property Institute in Austin, Texas, said that more than seven out of 10 homeowners in foreclosure proceed without any visible assistance.
"Agents with the Certified Distressed Property Expert® designation are helping distressed homeowners understand that there may be options available to them," Charfen said. "Laura Hall has been trained to help homeowners avoid foreclosure, and this Web site resource to educate the community is a commendable public service."
The CDPE designation provides real estate professionals with specific understanding of the complex issues confronting the real estate industry. Through comprehensive training and experience, CDPEs are able to provide solutions for homeowners facing hardships in today's market.
Since launching in June of 2006, Casa Pacifica Homes has successfully connected home buyers with loans in a bundled pricing model. "In the beginning, our goal was to educate home buyers to make the home buying process less intimidating, while providing lower overall cost to the buyer." Hall says. "With the current economic conditions, it is critical for distressed home owners to become educated about the strategies to avoid foreclosure in Hollywood and Los Angeles. Homeowners who are having issues are strongly encouraged to use the tools we provide on our site." Laura Hall serves her neighboring homeowners in Hollywood Hills and the areas surrounding Lake Hollywood. She is a Hollywood short sale expert.
For more information about CDPE Designation, visit http://www.cdpe.com.
For more information on how to avoid foreclosure in Hollywood or two speak with a short sale expert, call (866) 55 HOMES or download a free report from the site, http://hollywoodhillsavoidforeclosure.com.
###