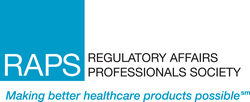 Rockville, MD (Vocus) October 25, 2010
The Regulatory Affairs Professionals Society (RAPS) today honored the recipients of its prestigious awards for outstanding contributions to the healthcare product regulatory profession. Michael B. Gropp, vice president of global regulatory strategy for Medtronic, received RAPS' highest honor, the Richard E. Greco Award. RAPS' Global Leadership Award for contributions to worldwide development of the regulatory profession was awarded to Philippe Auclair, PhD, senior director, regulatory strategy and advocacy, Abbott Quality and Regulatory EMEA; and Cindy Fisher, PhD, RAC, associate director, Vical Inc., received a RAPS Special Recognition Award for unique contributions to the profession. Awardees were honored during the opening session of the 2010 RAPS Annual Conference & Exhibition in San Jose, CA, which runs through 27 October at the San Jose McEnery Convention Center.
The Richard E. Greco Award recognizes an outstanding leader who has made significant contributions to the regulatory profession and to RAPS, and who exemplifies personal involvement and commitment within RAPS or his community. Award recipient Michael B. Gropp was honored in recognition of his work to help harmonize global medical device regulations and advocate for regulatory professional development. He is a special representative for international affairs and policy to the board of directors of Advamed and chair of the Eucomed International Affairs Task Force. Gropp is member of the Global Harmonization Task Force (GHTF) Steering Committee, and he was previously a member of GHTF Study Group 1. He is an active contributor to the Asian Harmonization Working Party and a member of the Asia-Pacific Economic Cooperation and World Health Organization advisory boards.
The Global Leadership Award recognizes a professional whose leadership and contributions further the development of the regulatory profession and increase awareness of RAPS in societies and economies worldwide. This year's honoree, Philippe Auclair, chairs the Post Market Surveillance Working Group and the Clinical Investigation Working Group of Eucomed and serves as a member of RAPS' European Advisory Committee. As secretary of GHTF Study Group 2, he has actively participated as a trainer in programs organized by regulatory authorities around the world. Through his extensive interaction with government authorities and key industry groups in places including the US, China, Malaysia, Taiwan, India, Canada, Brazil and Colombia, Auclair has consistently advanced the cause of international cooperation and raised the global profile and credibility of the regulatory profession.
RAPS' Special Recognition Award acknowledges unique contributions and achievements of an individual or organization that advances the quality of healthcare and the regulatory profession. This year's honoree, Cindy Fisher, is a member of a number of regional, national and international professional organizations, including RAPS, and a prolific volunteer and leader. She has distinguished herself by continually serving the regulatory community through her work on committees, task forces and in myriad leadership roles.
For more information and a complete listing of the more than 70 conference sessions and events, visit http://www.raps.org/ac2010. Follow conference updates on Twitter with the hashtag #2010RAPS.
Members of the working media who wish to cover all or part of the 2010 RAPS Annual Conference & Exhibition should contact Zachary Brousseau, senior manager, communications for RAPS at zbrousseau(at)raps(dot)org or register on site with valid press credentials.
Conference sponsors include: Abbott, BSI, Dassault Systèmes, GE Healthcare, Greenleaf Health, Makrocare, Parexel, QPharma, Tarius and TÜV SÜD America.
About RAPS
The Regulatory Affairs Professionals Society (RAPS) is an international membership organization of regulatory professionals in the rapidly growing medical device, pharmaceutical and biotechnology sectors. Regulatory professionals play vital roles in making better healthcare products possible. They work throughout the healthcare product lifecycle, ensuring these products are safe and effective, while driving organizational strategy and sound decision-making. RAPS supports these individuals and the regulatory profession by providing education and training, Regulatory Affairs Certification (RAC), professional standards, research, knowledge-sharing, publications, networking, career development opportunities and other valuable resources; and is committed to helping its members continually develop the knowledge and skills they need to excel. RAPS is headquartered near Washington, DC, with offices in Brussels and Tokyo. RAPS.org.
###