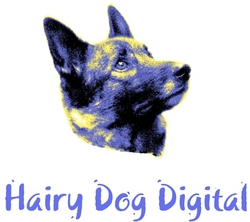 "I was concerned about my clients' ongoing web hosting and maintenance needs. I thought of [Hairy Dog Digital] immediately..."
Linthicum Heights, MD (PRWEB) October 23, 2010
Hairy Dog Digital (HDD) today announces acquisition of Reb's Web Design (RWD), a Glen Burnie, Maryland website programming, hosting, and search engine optimization company — to coincide with RWD owner Reb Orrell's retirement. The transaction will increase Hairy Dog Digital's client base by nearly one-third, and keep these local businesses' websites up and running, courtesy of another local business: Hairy Dog Digital, in Linthicum, MD.
Although competitors in the MD/DC/Annapolis region for the past several years, Hairy Dog Digital owner Rob Emenecker struck up an unlikely friendship with Orrell.
Emenecker explains: "In 2008, we were both finalists in the bid for Pasadena Business Association's new website design project [which Hairy Dog Digital won]. While waiting to do our presentations, we started talking, which, if you know Reb, is not a hard thing to do. After that, we chose not to go after the same business, but did begin to rely upon each other as sounding boards about technical issues."
"This is not a hostile takeover." jokes Orrell, "I began thinking about retiring, but it was a big decision; and, I was concerned about my clients' ongoing web hosting and maintenance needs. I thought of Rob immediately — I knew I could trust him with the relationships I've worked so hard to build over the years. So, I approached him about acquiring my business and feel really good about this decision."
Says Emenecker: "It's interesting, because although we've been competitors within the same small business marketplace, Reb has been responsible for me upping my game. He has an ease about him and a real ability to connect with people. Watching him, Reb has inspired me to strengthen my own networking and marketing efforts."
The transition of RWD accounts to Hairy Dog Digital will be seamless. Most RWD client accounts have already been transferred to HDD's servers, without any changes in service. The remainder will be transitioned over the next several weeks. Going forward, as account renewals occur, Hairy Dog Digital will meet with clients to assess their changing web technology needs.
Adds Emenecker, "When Reb presented me with this opportunity, I jumped at it, because I knew I would be getting clients who'd had good experiences with Reb's Web Design. I'm looking forwarding to developing these relationships and further leveraging the websites Reb created. He and I have different design and coding styles, but we use the same hosting tools. More importantly, we share a passion for really being there for our customers, as well as a vested interested in the success of our clients and other local businesses."
About Hairy Dog Digital
Hairy Dog Digital was founded in 2002 in Linthicum, MD. It is a full-service website development agency, dedicated to the sensible integration of functional design and smart technology. Hairy Dog Digital's services also include: website marketing, SEO, accessiblity assurance, hosting, domain name registration, maintenance and content development services for small businesses in Baltiimore, Washington, DC and Annapolis.
###