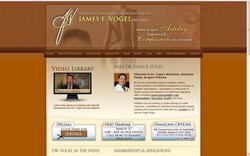 I want them to look youthful, very rejuvenated, and completely natural.
Baltimore, MD (Vocus) February 6, 2010
In its annual 'Top Docs' issue, Baltimore Magazine honors the best physicians in the region in many different specialties, from cardiology and anesthesiology to plastic surgery and emergency medicine. Because honorees are chosen by their peers in the medical community, inclusion on the 'Top Docs' list is considered to be a very prestigious distinction. The entire selection process is conducted by Baltimore Magazine editors and observed by three physician advisors who are chosen for their leadership and expertise in their chosen fields.
Baltimore plastic surgeon James Vogel, MD says he was honored to be chosen as one of the physician advisors to assist with the creation of the 2009 'Top Docs' issue. Dr. Vogel is a former 'Top Doc' himself, and his previous inclusion in this exclusive group, in addition to his plastic surgery expertise, were criteria for his selection. At his practice offering plastic surgery in Baltimore, Dr. Vogel has earned a reputation for high quality results and friendly, professional care over the past nineteen years. He says that his practice philosophy is for patients to never look like they've been operated on. "I want them to look youthful, very rejuvenated, and completely natural."
Dr. Vogel's role as a physician advisor was to monitor the surveying of more than 2000 physicians in Baltimore City and the five surrounding counties. A computer program was used to randomly choose the participants from lists of practitioners across the medical spectrum. Then the selected physicians were asked to answer the following question for each of 76 different specialties: 'Who would you send your family member to?' The answers that came back were tabulated and the doctors with the most votes were named to the 'Top Docs' list.
Having been chosen as a 'Top Doc' himself, Dr. Vogel has already shown that he has earned the respect of his peers. Now, with his selection as a physician advisor, his reputation as a premiere Baltimore facelift and breast augmentation surgeon continues to grow.
About Dr. James Vogel
From facelift and eyelid surgery to breast and butt augmentation in Baltimore, Dr. James Vogel offers many different procedures at his Owings Mills practice. After graduating from the Mount Sinai School of Medicine in New York, Dr. Vogel completed general surgery residencies at the University of North Carolina and Tufts New England Medical Center in Boston. He then trained in maxillo-facial and microvascular surgery at the Maryland Institute for Emergency Services – Shock Trauma unit while undergoing his plastic surgery residency at Johns Hopkins Hospital in Baltimore.
Dr. Vogel now serves as an Associate Professor in the Department of Surgery, Division of Plastic Surgery at the John Hopkins School of Medicine. He recently finished serving a term as the president of the Maryland Society of Plastic Surgeons. Dr. Vogel is a member of the American Society of Plastic Surgeons, American Society of Aesthetic Plastic Surgery, Baltimore County Medical Society, and the Johns Hopkins Medical Society.
Dr. Vogel's plastic surgery practice is located at 4 Park Center, Suite 100, Owings Mills, Maryland, 21117. His practice can be contacted at 410-484-8860 or 1-888-DRVOGEL. Patients can also use the contact form on http://www.drvogelplasticsurgeon.com/contact/.
###