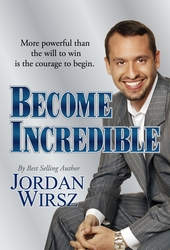 Now is the time people need this information the most
Las Vegas (Vocus) March 26, 2010
Acclaimed 27 year old entrepreneur, millionaire, and mind-mastery expert Jordan Wirsz is releasing his third book title, "Become Incredible" on April 29th, 2010. This book has already achieved "best-seller" status with thousands in pre-order before the book is has even been released!
Become Incredible is a book based on Jordan's 21 years (thats right, 21 years) of fascination and obsession with personal development, and what makes people successful in not just business, but in life. "It's not all about the money," Wirsz says, "For us to attain our greatest goals, we must first be ready emotionally, mentally, and intellectually. This book is designed to dig deep into your heart and change negative life experiences into positive propulsion - it's like rocket fuel when used in the right way. But it's also about finding YOURSELF. So many people in today's world have lost who they truly are inside, and often times, they don't even realize it."
Wirsz has been a mentor/coach to billionaires, Hollywood celebrities, even Fortune 500 CEOs. Having spent from the time he was six years old until present studying human behavior, human development, and personal and professional growth philosophies, Jordan remains one of, if not the only speaker/author in the nation who has truly "walked the walk" before attempting to teach others who to live extraordinary lives. While there are many speakers who make a living from selling books and doing speeches, Jordan considers this is "retirement," and lifelong passion and mission of giving back to the world that has been so generous to him. His past successes speak for themselves. (more information available by Google and Youtube)
"Now is the time people need this information the most," says Wirsz. "In this crazy world that we live in today, hope and success is all too scarce. What this book does, is help people THRIVE and ACHIEVE through times of adversity...A principle I've developed and used called "Staying Power."
The book launch will be held at Jordan's "Business Revolution" event to be held in Las Vegas on April 29th, at the Palms Hotel & Casino, renowned Pearl Theater. Jordan will make the books available to the public for the first time during the event, and will be completing a book signing directly after the event at the Pearl Theater.
All media is invited to participate in the event, as well as the book signing at the end of the day. Registration begins at 7:30 a.m. and the event is expected to last until late afternoon or early evening. Press passes available.
To view a summary of Jordan's amazing story and his current mission, go to http://www.BecomeIncredible.com If you are interested in booking Jordan Wirsz on your radio or television show, call Rachael Campbell at (702) 465-4861 or e-mail Rachael(at)JordanWirsz(dot)com
###