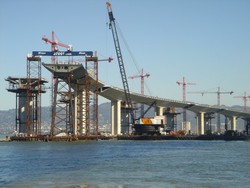 While our competitors have retrenched in the current economic climate, Bigge sees it as an opportunity for expansion
San Leandro, CA (Vocus) October 19, 2010
It's common knowledge that Bigge Crane and Rigging is the world's largest Terex crane distributor, but Bigge is also one of the world's largest used crane buyers. Bigge buys cranes of every stripe – crawler, tower, rough terrain, boom truck, carry deck, all terrain, as well as cranes from every crane manufacturer.
Because of Bigge's size, they can offer more flexible terms than most when it comes to crane purchasing. While Bigge often purchases cranes with a lump sum payment, they have an extensive range of financing offers as well as a huge inventory to accommodate trade-ins. In addition, Bigge has locations nationwide and staff to view any crane anywhere in the U.S.
Bigge also offers free, no-obligation estimates for all cranes. Estimates are customized for every inquiry, and generated based on Bigge's decades of experience, proprietary research, and sales data.
"While our competitors have retrenched in the current economic climate, Bigge sees it as an opportunity for expansion", says Brian Noga, Sales Manager, "While we are already the leader in crane sales, we want to be the first place owners think of when selling a crane"
ABOUT BIGGE CRANE
Bigge Crane and Rigging is among the largest crane sales and crane rental companies in the world. Bigge specializes in heavy lift, heavy rigging and specialized transportation projects for the refinery, petrochemical, power and civil infrastructure industries. Their headquarters are in San Leandro, CA, with ten offices nationwide. Bigge can be contacted at 888-337-BIGGE or on the web at www/bigge.com
###