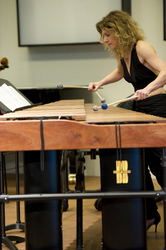 Arcata, CA (Vocus) September 8, 2010
This year the marimba joins forces with the multiple faces of percussion for Ivana Bilic Marimba Week held in Samobor, Croatia, September 25-29. The week-long festival includes workshops and concerts with contemporary, jazz and world music, featuring famous guest artists such as Pius Cheung, Dane Richeson and others.
Ivana Bilic is one of the most distinctive marimba voices. Known for her versatility, she appears as soloist with major orchestras and serves as jury member at marimba/percussion competitions in Europe and USA.
Ivana Bilic plays exclusively on the custom-built marimbas hand-crafted by Marimba One of Arcata, California. Learn more at Marimba One.
###