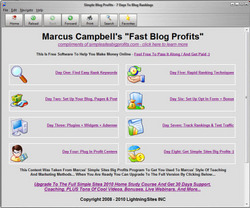 Marcus' Free Blog Profits Software Is Great For New Internet Marketers And even Seasoned Bloggers.
Vacaville, CA (PRWEB) December 9, 2010
Free Software Helps Affiliate Marketers Make Money Blogging - 7 Day Blog Profits Software
This software is designed by Marcus Campbell who has been making a living online as an affiliate marketer / Internet marketer for over 10 years now and really wants to see his students succeed.
Here Is A Rough Outline Of How 7 Day Blog Profits Will Help Internet Marketers Get Fast Blog Rankings...
Day One: Marcus shows exactly how he uses his secret trigger word method to find tons of targeted niche markets that can be used to rank your sites on.
Day Two: Marcus teaches how to get the right domain name for each niche. This part is often overlooked and done incorrectly, but Marcus will show how each domain affects your search engine rankings and how your blog set up can affect your rankings without knowing fancy SEO tactics.
Day Three: Marcus reveals what plug-ins each blog needs and how to set up each blogs structure not only to please the search engines but also to lead its visitors to the things that will make money. When blogger get this right and thew will soon be making money blogging.
Day Four: This is important. Many people cannot find the right affiliate program or offer to add to their blog so they end up just setting up AdSense or things that they like. This is a recipe for disaster. In this module Marcus teaches how to find the right offers, how to get accepted to the affiliate networks, and how to maximize profits while helping site visitors.
Day Five: Now it's time to turn up the volume and see how Marcus uses killer fast ranking techniques. By now each blog should be ranking and these tips will get instant rankings every time a new blog entry is posted. In this section Marcus also goes over how to rank for terms related to each niche markets that are non competitive.
Day Six: By day six most people will start seeing results with their blogs and getting ranked. Now it is time to set up the blog for long term profits model by adding a mailing list, talking to visitors, and creating a relationship. Marcus now teaches how to set up a real business by helping others.
Day Seven: This is the last day. Marcus teaches how to read hosting blog stats and locate the words that are ranking so its easier to build higher rankings for more profits. Often times blogger will overlook the stats and miss out on a goldmine of traffic.
Marcus is making this tool available free so that Internet marketers can learn how to set up profitable blogs from start to finish. Users Can Download The Software Free Here...
###