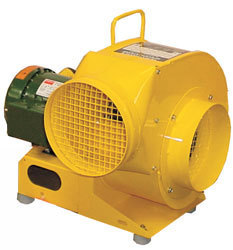 Kemp, TX (Vocus) February 10, 2010
The EPF-8P-E electric explosion proof blower is a portable Class 1 Division 1 blower with a Class 1 Division rating for groups C and D and Class 2 Division 1 for Groups E, F and G. With 1570 CFM free air delivery and 8 inch intake, this portable, durable unit is a fit for most applications. For more power, the latest addition, the EPF-E16-4450 offer a Class 1 Division 1 ratings and Class 2 Division 1 ratings, while moving nearly 4500 CFM free air delivery. With a 16 inch intake, this explosion proof blower is designed to refresh larger spaces more quickly. Finally, the EPF-30P is a pneumatic, intrinsically safe blower that has UL ratings for Class 1 Division 1, Groups A, B, C and D and Class 2 Division 1, Groups E, F and G. This is the only ventilation blower certified for Hydrogen, which is a group B gas. The EPF-30P is pneumatically operated, so operators will need compressors to operate the blower.
"With an extensive inventory of explosion proof lighting and explosion proof blowers, we are in a position to deliver products overnight, for sale or for rental," said Rob Bresnahan with Larson Electronics' magnalight.com. "This translates well for our smaller products, like explosion proof drop lights like the EPL-120-100, metal halide pedestal mount lights like the EPL-BS-70-100 and rechargeable explosion proof flashlights like the EXPRL-95. The can be shipped UPS small package Next Day Air to just about anywhere. Our larger tripod mount and cart based explosion proof lights are much more expensive to deliver to a location with Next Day Service, however, that option exists as well. The explosion blowers fit this same model well. Given their durable construction and relatively lightweight, they can be shipped via UPS Next Day Air as well."
Rob continued, "We handle rentals a bit differently. The operator buys the product outright with credit card or check and then we credit them back based on the established rental rates, after they return it. This affords the operator the ability to choose to keep the product or return the product after the rental. We talk to the operator, understand the application and then work through the details. We don't have a contract. The operator buys and owns the hazardous location equipment and then returns it upon completion for credit. If they deem the equipment useful, they may opt to keep it, given that it may take only a few rentals to make up the cost of purchase. We deduct for damages, excessive cleaning, etc. This allows us some flexibility to come up with one off rental rates based on limited time periods, like three days, or one day or 2 weeks. It is the customer's responsibility to ship the equipment back to us safely, and then we credit them back based on the received date. If they choose to keep the hazardous location lighting or blowers, they don't even need to call us, they just keep it."
Larson Electronics'magnalight.com offers a wide array of explosion proof lighting and explosion proof ventilation blowers for hazardous location use. Ranging from an extensive range of explosion proof linear fluorescent lights to intrinsically safe blowers, magnalight.com offers an extensive inventory and short lead times for operators in the commercial, industrial and military sectors. You can learn more by visiting magnalight.com or calling 1-800-369-6671 (1-903-498-3363 international).
###