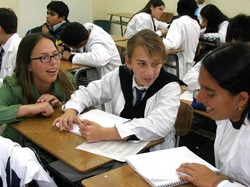 The EODP-NVC is looking forward to another successful year in 2011, in which Chilean primary and secondary students may continue to benefit from having contact with a native English speaking volunteer.
Denver, CO (PRWEB) November 26, 2010
The Ministry of Education in Chile, in conjunction with the United Nations Development Program, has asked Denver-based TEFL (Teach English as a Foreign Language) training center Bridge to recruit volunteers for Chile's English Opens Doors Program. With a Spanish/English language training center in Santiago, Chile and over two decades of experience in the language, travel and education fields, Bridge is uniquely qualified to recruit teachers up to the standards of this prestigious program.
"The English Opens Doors Program National Volunteer Center takes very seriously its privileged role as facilitator to ambassadors of the English language. Therefore, EODP-NVC and partner institution, Bridge, must adhere to strict guidelines with regard to the eligibility of each prospective volunteer," said a representative of the Ministry of Education in Chile (MINEDUC).
Native English speakers with a minimum of a bachelor's degree are needed to fill volunteer service initiatives in all twelve regions of Chile. Bridge recruits volunteers for the four southernmost regions, comprising the Lakes Region and wild and pristine Chilean Patagonia.
The Chilean government emphasizes the importance of the English language as a key to the country's development and success in today's global world. The Chilean Ministry of Education created English Opens Doors to bring volunteers into underserved classrooms, helping students and local teachers improve their English language skills and practice with native speakers.
"The EODP-NVC is looking forward to another successful year in 2011, in which Chilean primary and secondary students may continue to benefit from having contact with a native English speaking volunteer," said a representative of MINEDUC. "In exchange, this opportunity provides new developments in global outreach through volunteering and language learning, thus opening the door to cross-cultural exchanges and experiences for both Chileans and volunteers."
Volunteers co-teach with Chilean English teachers and live with local host families, becoming an integral part of the community and experiencing the culture on a much deeper level than an average tourist and, in turn, exposing students in Chile to customs, languages, and viewpoints different from their own.
"My students were fascinated with anything and everything about US culture, from music, to baseball, to simply passing a dollar and some change around the room. Many of them had seen tourists and backpackers passing through town, but for most of them I was the first foreigner they really interacted with," said Sarah Athanas, an EODP volunteer participant in 2008.
According to MINEDUC, "The volunteer's main responsibilities are: to focus on improving the students' speaking and listening skills; to motivate the students to take an interest in learning English; and to share their culture with the students, thus broadening their worldview."
The program includes an in-depth orientation and training in Santiago, and Bridge participants also receive a 120-hour TEFL Online teacher-training course and certification, designed to prepare them for the particular challenges of teaching English as a foreign language overseas. Volunteers may also participate in two weeks of free Spanish language classes at the BridgeChile language center in Santiago prior to their service initiative to facilitate their communication with students and community members during the program.
To learn more about the English Opens Doors Program contact Matt Clark at BridgeTEFL: mclark(at)bridge(dot)edu.
About BridgeTEFL:
A division of Bridge, BridgeTEFL is the largest provider of TEFL (Teach English as a Foreign Language) courses in the United States, training over 3,000 teachers annually.
About Bridge:
Founded in 1983, Bridge Linguatec, Inc d/b/a/Bridge is a world leader in language, education and travel. An international company with headquarters in Denver, Colorado, and affiliate centers in Argentina, Brazil, Chile and Qatar, Bridge offers a wide spectrum of language related products and services, including language training and immersion programs, teacher training and development courses, language testing, translation and interpretation services, and cross-cultural travel programs including international service learning, language study and teaching English abroad.
###